Sean Hannity 'Never Offered To Pay Any Legal Fees' For George Zimmerman, According To Fox News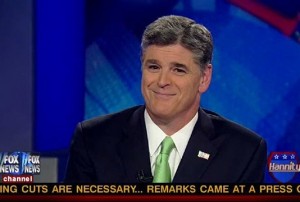 According to a report in the GlobalGrind — a site owned by hip hop mogul Russel Simmons — recently released jailhouse conversations that George Zimmerman had with a confidant support the claim that Fox News host Sean Hannity offered to pay for the legal fees that Zimmerman incurred in connection with the slaying of Florida teen Trayvon Martin. A statement provided to Mediaite via a Fox News Channel spokesperson denies the report.

A Fox News spokesperson told Mediaite that there was no connection between Zimmerman and Hannity:
"Sean Hannity has never offered to pay any legal fees or any fee associated with George Zimmerman."
The report in the GlobalGrind claims a study of the conversations Zimmerman had from jail support his coded claim that Hannity offered to pay his legal expenses.
In a later email with "Scott," Zimmerman discusses reaching out to Hannity directly from prison. "Scott" notes that they must keep Hannity at "arm's length." The GlobalGrind claims that they are certain Zimmerman was speaking of Hannity when he was talking about his legal fees.
GlobalGrind spent this morning trying to confirm the identity of "SH." A rock solid source has told us that the personal email address for "SH" that George Zimmerman gives to his friend, Scott, is in fact the personal email address for Sean Hannity, thus confirming that "SH" is in fact the Fox News host.
The FNC statement refutes this claim.
Hannity admitted in April that he took an off-the-record call from Zimmerman before he had been charged with the killing of Martin. Hannity told his audience that he had the conversation but agreed not to discuss the particulars of their conversation on the air:
One of the reasons cited in the press conference was an alleged conversation that George Zimmerman had with me. Before we continue tonight, I want to set the record straight about a couple of things. Now, for a few weeks we have been pursuing an interview with Mr. Zimmerman to give him a chance to tell his side of the story. Yesterday, I was contacted by an individual we believe was George Zimmerman. He reached out to me and we spoke on the phone about his case, and I agreed not to report on the contents of that conversation. That's it. I know nothing about his relationship with his now former attorneys.
> >Follow Noah Rothman (@Noah_C_Rothman) on Twitter
Have a tip we should know? tips@mediaite.com