Fox News host Sean Hannity recently shared a tweet calling Republican Arizona Senator John McCain a "globalist war criminal" and linking to a fake news story about the senator.
"Wow if true," Hannity tweeted Wednesday night.
UPDATE 12:07 p.m.: The tweet has been deleted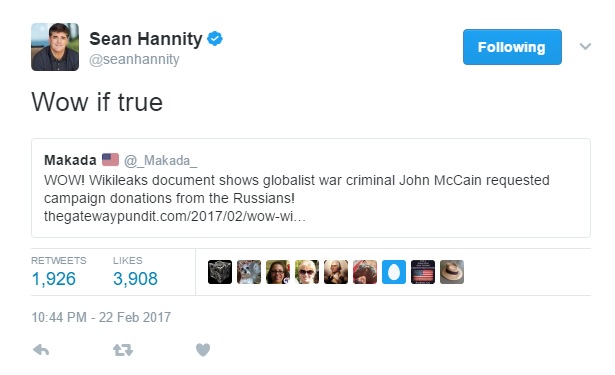 UPDATE – 12:26 p.m.: Hannity tweeted out an apology:
I retweeted an inaccurate article. My apologies to @SenJohnMcCain.

— Sean Hannity (@seanhannity) February 23, 2017
McCain is a decorated veteran who spent six years in a North Vietnamese prisoner-of-war camp and was subjected to frequent torture. He has never been credibly accused of war crimes.
The tweet Hannity shared links to notoriously inaccurate conservative site Gateway Pundit. "Wikileaks released documents this week following the sudden death of Russian UN ambassador Vitaly Churkin…" they report. "According to Reddit users, John McCain illegally asked for campaign donations from the Russian Ambassador (the same ambassador that died suddenly on Monday.) This globalist shrieks about Russian influence while he himself participated in it."
The document the story is based on is old however, released by WikiLeaks back in 2008. The Russian embassy told the BBC at the time that there wasn't a nefarious request from McCain, they just received a standard McCain fundraising appeal in the mail. "It sounds like they're having a little fun at our expense," said McCain's spokesman Brian Rogers. "It's just an error."
"It's evident that [the letter] was a mistake," his Russian counterpart agreed. "It happens."
In related news, Gateway Pundit has just been granted White House press credentials.
[Image via screengrab]
—
>>Follow Alex Griswold (@HashtagGriswold) on Twitter
Have a tip we should know? tips@mediaite.com