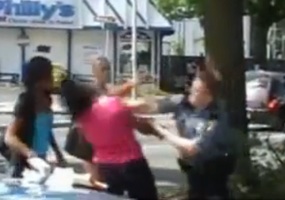 Want to know what cable news talking heads will likely be debating in the next 36 hours? Whether or not the following video clip of a Seattle Police officer punching a female teen in the face is an example of a citizen obstructing justice or police brutality. The reason why the woman was stopped by the cops in the first place? Jaywalking! (I know, this story has everything!) That will be enough excuse to air the rather compelling video over and over again. See the clip for yourself below.
Writing for the "Seattle Crime Examiner,' Lorie Stoneberger reports:
What started out as a mere jaywalking incident turned into a shoving match and ended with a Seattle Police Officer punching a 17-year-old girl in the face.

According to the police report, on June 14 an officer saw several people jaywalking on the 3100 block of MLK Jr. Way. The officer stopped a man and while talking to the 18 year old, he saw four women jaywalking at the same street. He then told the females to step over to his vehicle.

The police report reveals the women were "verbally antagonistic toward the officer." One of the women began to turn and walk away. The officer told the woman to step over to his car. She continued to walk away and appeared to raise her hand in a dismissive gesture. The officer contacted the woman and began escorting her back toward his car.

According to the report, the woman began to tense up her arm and pull away from the officer while yelling at him. The woman refused to obey the officer's commands to place her hands on the car. When the officer again tried to gain control of her, she pulled away and twisted, breaking free of the officer's grip several times.
According to Roberta Romero at KING5 News, Seattle Police have responded thusly:
Once the tape hit the air, Seattle Police Department Deputy Chief Nick Metz said police took a look at the tape and it did raise some serious concerns.

"You obviously have to take into context everything that occurred from the point that the officer did make contact with the individuals until the situation ended. As I said before, we have some concerns about the tactics the officer used and employed at the time. Again, we did feel what occurred did deserve a review by the Office of Professional Accountability," said Metz.

Eventually the officer managed to handcuff the first suspect as well as the girl he punched. The 19-year-old woman was booked into King County Jail for obstructing an officer. The 17-year-old girl, who was punched, was taken to the Youth Service Center for investigation of assault on an officer. Both females were cited for jaywalking.
An interesting story to be sure, but its the very compelling video that one is likely to view on dayside programming on cable news in the next day or two.
Have a tip we should know? tips@mediaite.com