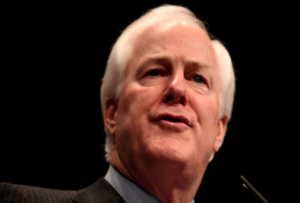 Texas Republican Senator John Cornyn is a strong conservative, but to tea partiers, he's viewed as one of those establishment types that are just as bad as the Democrats, relatively speaking. So when he spoke to Texas Monthly a few weeks ago about the tea party, he was less than kind about the strict standards for conservatism they're insisting upon.
And in what Bob Ross might call a happy accident, Cornyn's interview was published this week, the same week Congressman Steve Stockman decided to challenge Cornyn in next year's GOP Senate primary. And while the reliably conservative Club for Growth is avoiding taking sides for now, Cornyn slamming the tea party for demanding an unreasonably high standard of conservative purity may not exactly help his case next year.
I don't know how we got off on this track, where some people are welcome in our party and some people are not. Hence my reference to Ronald Reagan's line, "What do you call someone who agrees with you eight times out of ten? An ally, not a twenty-percent traitor." Well, we're at a point where you can agree with someone 98 percent of the time, but they think of you as a 2 percent traitor, which is just an impossible standard.
Cornyn walked the line in the interview between celebrating the goals of the tea party and smacking down some of its more radical tendencies, including the government shutdown. He repeatedly emphasized that the only serious differences between Republicans and the tea party are on tactics, not policy.
[h/t TPM]
[photo via Gage Skidmore]
— —
Follow Josh Feldman on Twitter: @feldmaniac
Have a tip we should know? tips@mediaite.com
Josh Feldman - Senior Editor