Sen. Schumer 'Disappointed' in Iran Deal, Warns Congress May Pass More Sanctions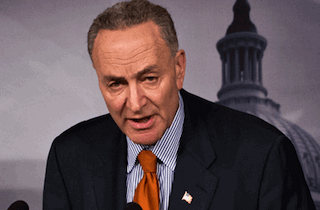 Senator Chuck Schumer (D-NY) said he was "disappointed" in the deal reached late last night reducing sanctions on Iran in exchange for a halting of their nuclear program, providing a strong Democratic voice of opposition from a Congress whose cooperation the Obama administration needs to successfully enforce the negotiations.
"This disproportionality of this agreement makes it more likely that Democrats and Republicans will join together and pass additional sanctions when we return in December," Schumer said in a written statement Sunday morning. "I intend to discuss that possibility with my colleagues."
Schumer said the deal "does not seem proportional," as the west is reducing sanctions on Iran, while the latter nation is only pausing, not reversing, its uranium development.
RELATED: Sen. Corker on Iran Deal: Obama Admin 'Long on Announcements, Short on Follow-Through'
"A fairer agreement would have coupled a reduction in sanctions with a proportionate reduction in Iranian nuclear capability," Schumer wrote. "It was strong sanctions, not the goodness of the hearts of the Iranian leaders, that brought Iran to the table, and any reduction relieves the psychological pressure of future sanctions and gives them hope that they will be able to gain nuclear weapon capability while further sanctions are reduced."
The deal relieves about $7 billion in sanctions in exchange for a halt in uranium enrichment. After six months, the five western nations involved in the talks hope to resume negotiations to get Iran to dismantle its nuclear program. However, the deal could be imperiled if Congress passes more sanctions on Iran next month.
[h/t The Hill]
[Image via Politico]
——
>> Follow Evan McMurry (@evanmcmurry) on Twitter
Have a tip we should know? tips@mediaite.com