Senior Trump Adviser Says 'As a Latina,' She's 'Embarrassed by (Alicia) Machado'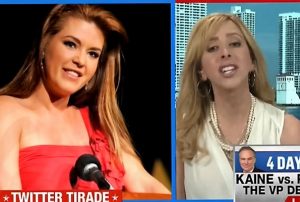 Trump campaign senior adviser and former Mediaite columnist AJ Delgado took to MSNBC Friday afternoon to defend Republican presidential nominee Donald Trump over his continued attacks on former Miss Universe Alicia Machado, and to push various unsubstantiated claims about Ms. Machado. Machado gained instant fame when former Secretary of State Hillary Clinton brought up Trump's onetime mockery of MAchado's weight during Monday night's debate, then was attacked by Trump again the following morning.
Trump kept up the assault with a dead-of-night tweetstorm, and in their interview this afternoon, anchor Thomas Roberts asked Delgado if she's had a chance to talk to Trump about behavior that might be alienating Latino voters, she told him that she had not, but that it is Alicia Machado who is poorly-respected in "our community":
I haven't had a chance to discuss it with him in particular. But, I will tell you this, as a Latina, I find Mr. Trump to be empowering, and I am quite frankly embarrassed by Miss Machado, I think Mr. Trump is a role model to Latino-Americans who care about jobs and the economy and success. I don't see the need for us to even be discussing Miss Machado, I don't find her to be a role model, she's not somebody respected in our community and I wish we can get back to discussing the real issues. I think that's what Mr. Trump has been trying to do, but the media won't let this story die.
Roberts helpfully pointed out that it was Trump who extended the life of the story with his tweetstorm, then spent the rest of the interview trying to keep Delgado from smearing Ms. Machado, which we've avoided by just not playing them.
Have a tip we should know? tips@mediaite.com