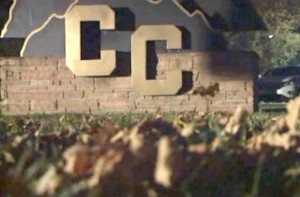 A massive sexting ring made up of over 100 students was discovered at Cañon City High School in Colorado, and it's believed that members of the school football team are at the center of it.
According to The New York Times, a "significant percentage" of all the students in school were involved, and the photos were hidden in "vault apps" that look like something else but can be opened with a password, which then allows you to access material you don't want others seeing.
And apparently that material was roughly 300-400 nude pictures of at least 100 students being distributed.
The school called in parents after discovering this was what was going on. So many members of the football team were connected to the sexting ring that they were forced to forfeit their last game.
And in case you didn't think this could get more disturbing, there's this little detail:
Students at the school described a competitive point system that classmates used to accrue photographs. Different point values were assigned to different students. Students who collected naked photographs gained points by adding these desirable children to their collections. Isaac Stringer, a junior interviewed outside the high school who said he did not participate in the photo-sharing, called the boy with the largest collection "the pimp of pictures."
Several students have been suspended, and the local district attorney is weighing whether to file felony charges or child pornography charges against any of the students involved.
Watch KDVR's report above.
[h/t Jezebel]
[image via screengrab]
— —
Follow Josh Feldman on Twitter: @feldmaniac
Have a tip we should know? tips@mediaite.com
Josh Feldman - Senior Editor