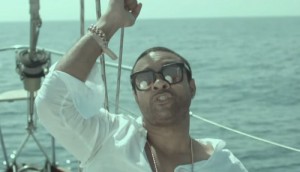 Move over, Senator John McCain. There's a new anti-ISIS sheriff in town, and his chosen artist's name is Shaggy — a continuation of the tried-and-true tradition of popular musicians adopting single names, like Madonna, Cher and Bono.
"Wait, you mean the guy from those godawful '90s songs 'Boombastic,' 'Wasn't Me' and 'Angel'?"
Yes.
"The dude with the Jamaican accent that sounds like a kid who ingested too much helium?"
That's the one.
For some reason, the singer spent a big chunk of his interview with the Miami New Times discussing ISIS — particularly the organization's highly successful efforts with social media and recruiting. When asked about his latest single, "Go Fuck Yourself," Shaggy decided to share the song specifically with the burgeoning Islamic State:
ISIS can go fuck themselves. That's some crazy shit what they're doing. It's horrible, man. I can't see… I don't get that much hate. I just don't get that level of evil. I can't understand it.
A few questions later, Shaggy laid out his plan for combating and defeating the terrorist organization head-on:
You might need [a bodyguard] after these ISIS comments.

Yeah, man, but listen. I get someone having a cause. I get somebody fighting for their cause. And I get that people struggle; I get that they suffer. But how does that justify killing your brother? Taking their heads off and filming it… That's a different level of evil right there.

Extreme Islam discourages and even bans music. Since music alters moods, maybe the lack of music affects ISIS militants?

If you're able to cut a man's head off, you're sick. But right, music evokes emotion. So if they're listening to Shaggy music or reggae music, they're not going to want to cut somebody's head off. There're two thing you want to do when you listen to reggae: You get somebody pregnant, or you're fucking high. High people don't want to kill nothing; they want to love. They need to bag some Jamaican weed and distribute it amongst ISIS. I guarantee there won't be any more wars out there.
There you have it. According to Shaggy, the best way to discourage ISIS members is to ply them with Shaggy music and weed — according to Shaggy.
[h/t Miami New Times]
[Image via screengrab]
— —
>> Follow Andrew Husband (@AndrewHusband) on Twitter
Have a tip we should know? tips@mediaite.com