Shia LaBeouf Screamed at White Supremacist Crashing His Anti-Trump Livestream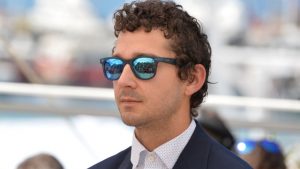 On Inauguration Day, Shia LaBeouf launched an art project called "He Will not Divide Us" at the Museum of the Moving Image in Queens, New York. Outside the museum is a camera and people can come and stand in front of it for as long as they want repeating the words "He will not divide us." The video will be streamed continuously for four years, or as long as Donald Trump is President.
Yesterday, the "He Will Not Divide Us" official Twitter account tweeted out this video of a White Supremacist who showed up and started talking into the camera, including saying, as our cousin site Gossip Cop pointed out, something that sounds like "praise Hitler."
White supremacist yells into the camera and Shia LaBeouf shuts him down. This has been a very interesting live stream. #HeWillNotDivideUs pic.twitter.com/CqY9pLobWi

— #HeWillNotDivideUs (@HWNDUS) January 23, 2017
LaBeouf, who has made multiple appearances in the live stream was there at the time, got into his face and screamed "he will not divide us" into the man's ear. Before things got (more) physical, the man left, and the crowd cheered.
Other moments have been much more positive. At one point, a man was there by himself for a while. Eventually, a woman came and joined him, saying she had been watching from home and had become inspired.
this is so beautiful #hewillnotdivideus pic.twitter.com/1SDkOGCJjz

— ella (@frickingtroye) January 23, 2017
[featured image via Featureflash Photo Agency/Shutterstock, Inc.]
Have a tip we should know? [email protected]
---