Shocking New Report Reveals 368 Cases of Alleged Sexual Abuse Against Child Gymnasts Since 1996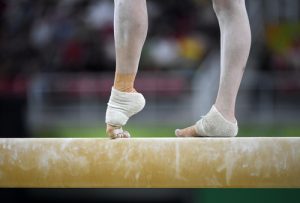 A stunning new report out Thursday uncovered an abuse scandal in the world of gymnastics whose scope is shockingly vast.
According to a comprehensive report in the Indianapolis Star, there have been 368 cases of alleged child sexual abuse in gymnastics over the past 20 years. The acts were allegedly committed against gymnasts by coaches, gym owners, and other adults who work in and around the sport.
The report claims that predatory coaches often move from gym to gym, with the new gyms either unaware of or indifferent towards the previous charges.
"It's just too easy for coaches to keep getting hired and hired and hired," Nancy Hogshead-Makar — a former Olympic Gold Medal winning swimmer who now chairs an advocacy group called Champion Women — told the Star. "Sexual abuse thrives on the fact that people are embarrassed about the topic, ashamed to talk about it, and they keep quiet about it. And that's exactly why molesting coaches keep getting hired at the next place. Nobody talks about a coach that is inappropriate with athletes; the coach quietly moves away and gets hired someplace else."
Marci Hamilton, the CEO of CHILD USA, a research and advocacy group based at the University of Pennsylvania, believes that there may actually be as many as three to five times more victims than the Star reported.
"I'm sad for all the parents and athletes who didn't have the kind of warning that that number gives you," Hamilton told the Star. "But my guess is that it's a pretty severe undercount."
USA Gymnastics, a leading Olympic organization which presides over the sport, gave a statement to the Star which said:
"Nothing is more important to USA Gymnastics, the Board of Directors and CEO Steve Penny than protecting athletes, which requires sustained vigilance by everyone — coaches, athletes, parents, administrators and officials. We are saddened when any athlete has been harmed in the course of his or her gymnastics career."
Read the full report here, via the Indianapolis Star.
–
Follow Joe DePaolo (@joe_depaolo) on Twitter
Have a tip we should know? tips@mediaite.com
Joe DePaolo - Senior Editor