Shooting Survivor Who Took Horrifying Videos To Anderson Cooper: 'You Could Smell the Blood'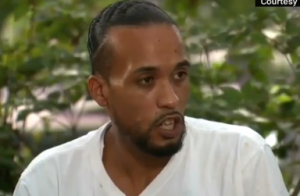 Now that a few days have passed since the worst mass shooting in American history, insider details are really beginning to emerge. Of the 49 who were killed and 53 who were injured at Pulse Nightclub in Orlando, Florida, on Sunday morning, many used their phones to document the harrowing experience of the four-hour siege.
From Snapchat videos to text messages from victims and the attacker both, there is a lot to wade through, but one of the most powerful first-person point-of-views we have is a set of videos taken by Miguel Leiva as he hid in a bathroom with other club-goers. The videos, he says, were taken to show his girlfriend he was still alive.
While talking to Anderson Cooper, Leiva said, "I just remember like, you could smell the blood. There was so much blood."
He recounted trying to stay quiet and being surrounded by blood as those around him cried. At one point, a glass of water was seen in the videos and after being asked about its significance by Cooper, Leiva divulged that one victim was choking on his own blood and needed to drink.
"They kept asking for water. There was other people that were shot and they needed water and they wanted water and it was the only thing we could think of to calm them down at that moment."
Watch above to see the footage, which is grainy but still graphic. Practice good judgment, please.
[image via screengrab]
For more from Lindsey, go to Twitter or Facebook.
Have a tip we should know? [email protected]