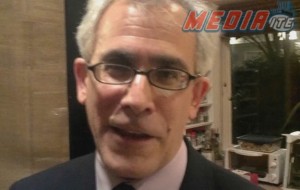 At a book party celebrating the release of his new book Showdown: The Inside Story of How Obama Fought Back Against Boehner, Cantor, and the Tea Party Monday night, author and MSNBC contributor David Corn responded to a rather tepid attack by conservative radio giant Rush Limbaugh. Corn  thanked Limbaugh for plugging Showdown on Monday's radio show, but added "I wish you'd call me a slut, because that'd probably really help sell books. There's always tomorrow."
As soon as Showdown hit shelves, it caused a stir, scoring the lead article at Mediaite, and sending Rush Limbaugh into the conspiracy kitchen. Here's what Limbaugh said about David Corn on Monday's show:
David Corn, well-known liberal-agitating journalist who used to write for The Nation (he's all over the place out there), has a new book called Showdown: The Inside Story of How Obama Fought Back Against Boehner, Cantor, and the Tea Party.

And I think the Corn book hits bookstores tomorrow, either tomorrow or next Tuesday.  But, anyway, in his book, in the Corn book, Obama is said to blame "Fox News for his political woes in a private meeting with labor leaders in 2010, saying he was 'losing white males' who tune into the cable outlet and 'hear Obama is a Muslim 24/7.'" So the Corn book is out.  This is Obama, brave, courageous, fighting back against Fox News! fighting back against Boehner and Cantor!  So Corn's book has an entirely different take than the Washington Post piece.  So the plot thickens on this.  Corn has a book coming out praising Obama as courageous and gutsy. He's up against the juggernaut Fox News who's out there telling their white audience members that Obama's a Muslim.

Then you got the Washington Post with their story putting the blame for all of this on Obama.
So, David Corn's book and the WaPo article combine to form some kind of plot-thickener. That plot, says Corn, apparently involves his book being produced and synchronized perfectly to blunt the impact of this Washington Post article, which, Corn also points out, makes about as much sense as anything else Limbaugh says.
Also spotted at Monday night's fête were fellow White House denizens David Jackson of USA Today, Sky News' Jon Christopher, NBC News' Kristin Welker, and erstwhile White House correspondent-turned-Congress nerd extraordinaire Major Garrett. Also on hand were We're Not Broke filmmaker Vicki Bruce, NBC's Michael Isikoff, The Atlantic's Molly Ball, and many others.
Here's the video of David Corn's response to Rush Limbaugh:
Have a tip we should know? tips@mediaite.com