Since Phyllis Schlafly Endorsed Trump, the Forum She Founded Has Been Trying to Oust Her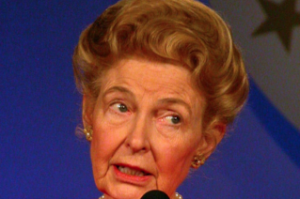 Phyllis Schlafly is perhaps best known for her strident anti-feminism. She is widely associated with the defeat of the Equal Rights Amendment and the creation of Eagle Forum, which is an anti-feminist collective. In January, Eagle Forum endorsed Ted Cruz for the presidency; Schafly endorsed Donald Trump.
Now, her organization is trying to exclude her, just like she has long advocated for the exclusion of Latinos from the voting process. Forum member Cathie Adams said this after Schafly endorsed Trump:
At 91, it is just totally unfair to impose upon someone who has such a beautiful legacy … I think this was very much a manipulation. When you're 91 and you're not out with the grass roots all the time, it is very much taking advantage of someone.
Now, after taking jabs at her age and legacy, a "gang of 6" within the group has really started trying to edge the nonagenarian out. Made up of Eunie Smith, Shirley Curry, Carolyn McLarty, Rosina Kovar, and — oh, yeah — Schlafly's own daughter, Anne Cori, the "gang" has had at least one unlawful, "rogue" meeting. Here's an email from the Forum's president, Ed Martin:
Meltdown at @EagleForum: Richardson R @CathieAdams accused in overthrow against Trump backer @PhyllisSchlafly pic.twitter.com/IGjgAKHk9v

— Bud Kennedy (@BudKennedy) April 9, 2016
(Note: a "con con" is, according to Schlafly, "a general convention to amend our Constitution." She hates them.)
Schlafly also sent out an email:
i really wanna read the inside story of the abortive anti-phyllis schlafly coup at eagle forum pic.twitter.com/8J4DNnNc1w

— Sad! (@cd_hooks) April 11, 2016
One last letter for your consideration is this one, which Schlafly sent to the whole gang, including her daughter:
Yeah, she asked them all to resign, so it looks like their "hostile takeover" of Eagle Forum failed. Now, all that's left is the press tour, which is already underway.
Have a tip we should know? tips@mediaite.com