Slate Pitches: Online Magazine Confirms Your Bias With Noble Stand Against Washington Redskins' Name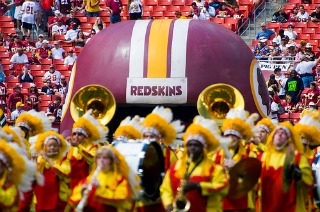 Slate.com shocked the politics and sports commentary universe on Thursday morning when they published a piece announcing that this would be "the last Slate article that will refer to the Washington NFL team as the Redskins." Time stood still for a moment as the denizens of the nation's capital pondered the scope of the impact that this courageous act of defiance would have on their lives. For a moment, uncertainty reigned as America's newsrooms and, almost certainly, the National Football League itself wondered whether anything would ever be the same… And then they consulted public polling which showed that Slate is part of a small minority which gives one iota of a care about this issue, and life ambled on as if nothing much at all had occurred.

"For decades, American Indian activists and others have been asking, urging, and haranguing the Washington Redskins to ditch their nickname, calling it a racist slur and an insult to Indians," Slate's declaration of resistance begins.
The author quickly note that prominent figures in sports and politics share their opinion about the lack offensive nature of the name of Washington D.C.'s football team. "More than 20 years ago, Washington Post columnist Tony Kornheiser, no politically correct squish, urged the team to abandon the name," Slate's David Plotz writes. "Today, the mayor of Washington, D.C.—the mayor!—goes out of his way to avoid saying the team's name."
"I'm a lifelong fan of the team, and [team owner Daniel] Snyder and his players should be justly proud of the way their team bridges black and white Washington," Plotz continues, adding a personal touch and absolving Snyder of bigotry. "So I don't think Snyder's lying to us or to himself when he sees only the bright side of the name."
But time passes, the world changes, and all of a sudden a well-intentioned symbol is an embarrassment. Here's a quick thought experiment: Would any team, naming itself today, choose "Redskins" or adopt the team's Indian-head logo? Of course it wouldn't.
"If Slate can do a small part to change the way people talk about the team, that will be enough," he closes, setting the bar low enough to ensure success.
Slate's ostentatious display of shaming will be greeted favorably by between 11 percent of Americans and 28 percent of D.C. residents who agree with this position. An Associated Press-GfK poll taken in May after Congress briefly considered a resolution which would change the team's name found that 79 percent of Americans favor keeping the name "Redskins."
A Washington Post poll of D.C.-area residents June found 61 percent favors keeping the name, while 28 percent support changing it. Among sports fans in the District, "eight in 10 say the team should keep its name."
Maybe Slate will move its readers to support changing the team's name, but it's more likely that the vast majority of Slate's readership already supports their editorial position. Besides reaffirming their belief in the righteousness of this shared creed, it's hard to identify what Slate has accomplished with this editorial. But everyone feels a little bit better about themselves today, and that is a victory in itself.
> >Follow Noah Rothman (@NoahCRothman) on Twitter
Have a tip we should know? tips@mediaite.com