Snowden Surrenders Moral Authority With Dangerous Leaks About American, U.K. Spying Techniques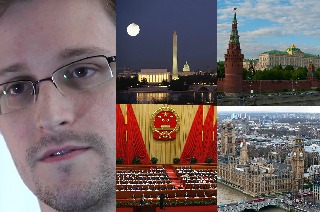 Edward Snowden's bombshell revelations regarding the National Security Agency's monitoring of the electronic and telephonic communications of average Americans has sown the seeds of a crisis of confidence among broad swaths of the voting public in the United States. As a result, he has been the subject of strong criticisms from supporters of the NSA's programs. Critics leveled both substantive condemnations of Snowden's motives and methods as well as clumsy attacks on his character. None of these critiques, however, were especially compelling – that is, until this weekend. New leaks published in The Guardian on Sunday and Monday relating to America's surveillance regime abroad jeopardize American national security interests and threaten the United States' intelligence assets abroad. This behavior does not comport with Snowden's earlier defense of his actions as being those of a concerned American citizen. These are the actions of a disaffected citizen bent on sedition at best. At worst, they are the acts of a counterintelligence agent.

In the days that followed Snowden's revelations about the American domestic surveillance state, a cast of bipartisan lawmakers and opinion leaders emerged to attack Snowden's actions and personality. An unlikely coalition of politicians, including Sen. Dianne Feinstein (D-CA), House Majority Leader John Boehner (R-OH) and former Vice President Dick Cheney, minced no words when they called Snowden's actions treasonous.
The counterargument was always more compelling; aspiring terrorist actors know and behave as though their communications are being monitored by Western authorities. Average Americans, prior to the NSA revelations, did not.
Speaking of the 1971 Pentagon Papers, a comprehensive history of the questionable tactics American military personnel employed during the Vietnam War, famed First Amendment attorney (and father of Mediaite's founder) Floyd Abrams said that hindsight has proven that the release of that information ultimately strengthened both U.S. national security and Americans' faith in their institutions of government.
He was speaking of the Department of Justice's aggressive pursuit of leakers and the journalists who speak with them, but he could easily have been talking about the NSA's programs. It is easy to envision a future in which the original NSA leaks are viewed in a positive light by historians. Likewise, Snowden's place in American history might have been a noble one if he had stopped with revealing those NSA monitoring programs. But he did not.
On Sunday, The Guardian revealed that the U.K. monitored the phone conversations and tried to obtain the passwords of the international diplomatic delegates attending a 2009 economic summit.
According to the newspaper, the documents show that the British signals intelligence agency GCHQ used "ground-breaking intelligence capabilities" to intercept calls made by members of the larger G-20 conference delegations at meetings in London.
On Monday, The Guardian continued to publish leaks damaging to American national security and threatening to its diplomatic relationships with other great powers. Based on more Snowden documents, it was revealed that American spies intercepted the communications of Russian President Dmitry Medvedev during his 2009 visit to that G-20 summit.
The intercepts revealed, according to documents obtained by The Guardian, "a change in the way Russian leadership signals have been normally transmitted."
This is an analysis of signal activity in support of President Dmitry Medvedev's visit to London. The report details a change in the way Russian leadership signals have been normally transmitted. The signal activity was found to be emanating from the Russian embassy in London and the communications are believed to be in support of the Russian president."
The report goes on to detail the NSA's facilities based in the U.K which has "often been described as the biggest surveillance and interception facility in the world."
These are extraordinarily damaging revelations. Snowden's decision to reveal this information from China has already deeply complicated Sino-American relations, but these latest leaks will inevitably complicate America's relationship with its European allies and Moscow. This is particularly disturbing because they have come at a time when President Barack Obama is attempting to convince Russian leaders to reduce or entirely back off of their support for Syrian President Bashar al-Assad. American treasure and, should intervention into the Syrian conflict escalate, American lives have been imperiled by Snowden's actions.
What began as an arguably constructive process has devolved into a dangerous one. Snowden's leaks now threaten American diplomatic and intelligence assets. These are irresponsible and criminal actions. Those who continue to support Snowden's behavior can no longer rely on the transparency or good government arguments. This is a criminal conspiracy bordering on treason. Whatever moral authority the NSA leaker once enjoyed is now gone and his champions should reconsider their support.
> >Follow Noah Rothman (@NoahCRothman) on Twitter
Have a tip we should know? tips@mediaite.com