So Much For A Slow News Day: Charlie Sheen Arrested On Domestic Violence Charges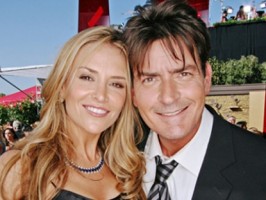 Charlie Sheen has been arrested on domestic violence charges involving his wife Brooke Mueller, ABC News is reporting.
Police in Colorado confirmed that the actor was taken into arrested and jailed on Friday after a confrontation.
In wake of the day's other horrible events, the Christmas holiday, which many may have expected to be low key, if not new-less, has turned into a media frenzy that will likely last the networks through the weekend. Pre-taped programming might be put on hold altogether now that grave homeland security issues have combined with Hollywood scandal.
On Sheen, ABC is reporting:
Sheen, 44, was booked on felony charges of second-degree assault and menacing, and a misdemeanor charge of criminal mischief, all of which were "coupled with a domestic violence component," the Apsen police said in a statement.

The statement said Sheen would remain held without bond until his first court appearance in Pitkin County, Colorado, though no date for that proceeding was immediately set.

Police did not identify the person whom Sheen was accused of assaulting. But the celebrity news website Radar Online reported that the actor's arrest came after he shoved his wife, Brooke Mueller, during a heated quarrel.
TMZ added that Sheen could remain in custody until Monday:
UPDATE: A member of the Aspen Police Department tells TMZ Charlie could be in jail until Monday — but they are trying to find a way to speed up his release.
The newly renowned gossip site — which made news just last weekend for breaking the news of actress Brittany Murphy's sudden death — already has the "Two and a Half Men" actor's mug shot:

They also included the following quote from Sheen's publicist earlier this evening:
Sheen's publicist, Stan Rosenfield, says, "Do not be mislead by appearance. Appearance and reality can be as different as night and day. It would benefit everyone not to jump to any conclusion."
Have a tip we should know? tips@mediaite.com