Soledad O'Brien Laments the 'President-Elect Also Elevating' Fake News, Just Like Social Media Does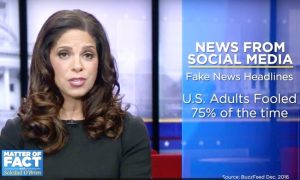 Now that she's comfortably settled into her latest gig as the host of Matter of Fact, veteran journo Soledad O'Brien is taking on the biggest fact-based issue of the era: fake news.
In the latest episode, she invited Buzzfeed media editor Craig Silverman to help her tackle the problem after she shared the startling statistics that 62% of Americans get their news, in some form, from social media and fake news headlines fool adults about 75% of the time.
Silverman revealed that he saw fake news coming years ago, saying that "in about 2004," he started noticing a level of inaccuracy in mainstream media. The inaccurate information got "tremendous velocity and tremendous distribution," leading him to examine what role social media played in all of that.
O'Brien focused on the topic of social media, suggesting that with so many people using it to get their news, there has been a "cultural shift." She asked Silverman how he thought journalists could combat the prevalence of fake news on social media.
He responded that the answer is not to have consumers distrust absolutely everything, but rather to make news more straightforward in its appearance on newsfeeds.
O'Brien countered that some of the issue has nothing to do with Facebook or Twitter themselves. She said, "You have the President-elect also elevating some of this fake news, right? I mean, that's problematic and different…"
Silverman called Donald Trump's habit of sharing fake news "unprecedented." He mentioned than when Trump or someone in his orbit shares something false, either knowingly or unknowingly, it gives the story "a layer of credibility."
Ultimately, the conclusions they drew were that there must be a better labeling system for news items on Facebook and perhaps even media literacy education starting as early as high school.
[image: screengrab]
Have a tip we should know? tips@mediaite.com