Source Claims Huckabee Feeling Pressure From Fox On Campaign Decision; Huckabee Claims Source Is 'Full Of It'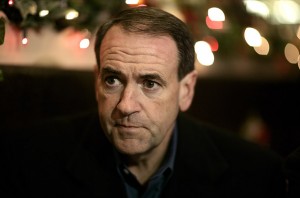 Is Mike Huckabee running for president? That's what many people – including Fox News executives – would apparently like to know sooner rather than later.
You might recall that, last month, Fox News suspended contributors Newt Gingrich and Rick Santorum after both men signaled an interest in preparing to campaign. Shortly after, CNN"s Joe Johns wondered why other Fox News contributors who many expect to campaign – including Huckabee – weren't similarly suspended by the network.
Fox News executive vice president Bill Shine told The Daily Beast that the network is "continuing to monitor the situation" where Huckabee is concerned. For his part, Huckabee says any rumors that Fox News may be pressuring him into making a decision soon are not to be believed. Only his words to The Daily Beast's Howard Kurtz were a tad more colorful:
Your source is full of it.

No pressure at all. Fox has been very understanding and they know and I know that if I take steps to be a candidate (ask for money, support, or set up a committee), then I will step aside. That's been understood from the beginning.
For what it's worth, Huckabee has definitely been acting like someone eying a leadership role. He recently made headlines 'round these parts when he called Glenn Beck "inept" over comments he'd made about Huckabee's support for First Lady Michelle Obama's youth health initiatives. Additionally, Huckabee is currently the favorite to run among recently-polled Republican voters.
So why the wait?
Huckabee, who is building a house in Florida, has acknowledged that his television salary is a factor in waiting until the summer to decide his political future. "If I run, I walk away from a pretty good income," he said recently, which is why it makes sense for him to delay a decision.
He has until May 3rd to make up his mind.
h/t The Daily Beast
Have a tip we should know? tips@mediaite.com