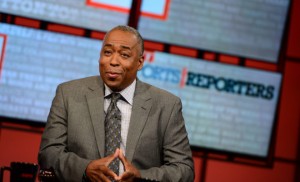 The sports world is mourning the loss of longtime ESPN broadcaster John Saunders, who passed away Wednesday at the age of 61.
Fans, colleagues, and friends took to Twitter to praise Saunders, perhaps best known for his studio work with college football, and as the host of the Sports Reporters — a role in which he's served since 2001.
Young students, take this from John Saunders:
1) Be nice to everyone
2) Laugh and have fun (it's sports!)
3) Don't make rage an act. Mean it

— Bucci Mane (@Buccigross) August 10, 2016
Devastating doesn't even begin to describe how I'm feeling right now. John Saunders was a wonderful man, ultra pro & father figure.#RIP

— Stephen A Smith (@stephenasmith) August 10, 2016
John Saunders was a better person than a host, which is saying something. Classy. Professional. I can't even describe his impact on me.

— Jemele Hill (@jemelehill) August 10, 2016
Saddened by the news regarding John Saunders passing. John was a gracious man and always such a professional. Heartbreaking. Prayers. ??

— Kirk Herbstreit (@KirkHerbstreit) August 10, 2016
The news of John Saunders' death could not be more crushing. We all loved him dearly. We grieve. We will miss him. Can't replace the man.

— Chris Mortensen (@mortreport) August 10, 2016
Devastated. John Saunders was so good to me and so many of us. He was so kind and easy going. We lost a legend. Say a prayer for his family.

— Kevin Negandhi (@KNegandhiESPN) August 10, 2016
So incredibly sad to hear that John Saunders has passed. He was a role model, a gentleman & a first-class reporter/anchor. RIP to a legend.

— David Aldridge (@daldridgetnt) August 10, 2016
Sunday was just another day of the week until John Saunders came on my TV. Rest in peace, my friend.

— Darren Rovell (@darrenrovell) August 10, 2016
John Saunders and I started the same week and were paired together on the 7pm SportsCenter in 1987. We remained close & shared everything.

— Tim Brando (@TimBrando) August 10, 2016
I love you, John Saunders.

— Israel Gutierrez (@IzGutierrez) August 10, 2016
Crushed to hear the news about John Saunders. Pro's pro. He'll be missed. RIP.

— Anish Shroff (@AnishESPN) August 10, 2016
John Saunders, a man of class, devotion to family, charity and, for 30 years, ESPN has passed. Sad day in Bristol. https://t.co/GVUWTUBtIH

— Mike Soltys (@espnmikes) August 10, 2016
SO sad to hear about the passing of John Saunders.He always made you feel special & was one of the few that was genuinely nice to everyone?

— Charissa Thompson (@CharissaT) August 10, 2016
We'd like to add our condolences to those above. Saunders always came across on television as a consummate professional and a truly nice guy.
Via press release, ESPN president John Skipper said: "John was an extraordinary talent and his friendly, informative style has been a warm welcome to sports fans for decades. His wide range of accomplishments across numerous sports and championship events is among the most impressive this industry has ever seen."
Saunders is survived by his wife, Wanda, and two daughters, Aleah and Jenna. The cause of death has not yet been released.
[image via ESPN Images]
–
Follow Joe DePaolo (@joe_depaolo) on Twitter
Have a tip we should know? tips@mediaite.com
Joe DePaolo - Senior Editor