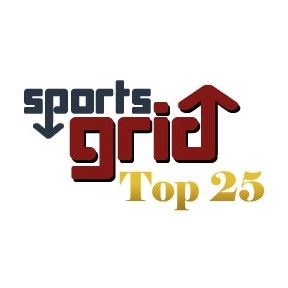 In anticipation of SportsGrid, Mediaite's upcoming sports baby (babies having babies!), we've decided to count down our list of the top 25 most influential sports bloggers, writers, and tweeters currently shaping the online sports narrative.
In April, SportsGrid will take Mediaite's proprietary Power Grid algorithm and apply it to sports, gauging the performance and popularity of over 5,400 players, teams, coaches, front office execs, and members of the sports media.
To get a leg up on the launch, and the crazy arguing that will ensue (LeBron vs. Kobe, Ohio State vs. Michigan, Stuart Scott vs. local sports anchor Chip Carter), SportsGrid's Dan Fogarty and Glenn Davis count down their Top 25 sports bloggers and internet personalities.
There are plenty of heavy hitters on the list, but much like every good lineup needs a three-point specialist or a defensive stopper, this squad wouldn't be complete without writers who serve a more niche audience. Think of them as Bruce Bowen, minus the contempt from their peers.
Note: if you are not a fan of the gratuitous use of sports puns when arbitrarily ranking bloggers, TOO BAD, because we're going to the hole until the fat lady sings.
With that in mind: every team needs a couple of goons to start fights, and some bangers on the inside…
Have a tip we should know? tips@mediaite.com