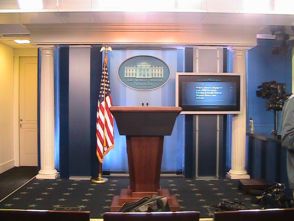 At yesterday's White House briefing, Press Secretary Robert Gibbs, noting the fine weather, suggested moving the briefing outdoors. The remark got an enthusiastic response from the press corps, and Gibbs said he'd work on it. To his credit, he works awfully fast. The White House has just announced that Gibbs will be holding tomorrow's briefing, the first since his promise, in the Rose Garden.
If only all the White House's promises could be fulfilled so quickly.
It doesn't surprise me that the idea got such a rousing reception. It is hotter than the Congressional shower in that briefing room. Briefing outside, though, might present its own challenges. Major Garrett can probably fill you in on those. Hopefully, it hasn't warmed up enough for bees yet.
If this works out, perhaps we can look forward to a summer of outdoor briefings, perhaps with Deputy Press Secretary Bill Burton dispensing Mojitos.
All I know is, I don't want to be the first one to light a cigarette.
Here's Gibbs' promise from yesterday:



Transcript:
MR. GIBBS: Good afternoon. I think as the weather gets nicer we might want to move this — like class, we should move this outside and —

Q Absolutely.

MR. GIBBS: Oh, wow, everybody is —

Q Go for it.

MR. GIBBS: All right, I will — wow, I didn't think that would be so easily accepted. (Laughter.) Without objection, so ordered, and I will have WHCA start setting that up. That sounds like a great idea. Wow. That sounds good.
Have a tip we should know? tips@mediaite.com