The St. Louis County Police Department tweeted out the following Thursday morning, and it went over about as well as you'd expect:
Kids will be Kids?

On November 22nd 2014, a Cleveland Police Officer shot 12 year old Tamir Rice who had his… http://t.co/IAX15snPXs

— St. Louis County PD (@stlcountypd) December 4, 2014
Replies excoriated the department for appearing to blame the death of Tamir Rice, shot by a Cleveland Police Officer last week while carrying a toy pistol, on Rice himself. Several told the PD to shut down its twitter account.
The @stlcountypd are psychopaths. Why would they tweet smartass remarks about Tamir Rice? https://t.co/GbOrC9GcaQ pic.twitter.com/lESdjpAWAv

— pourmecoffee (@pourmecoffee) December 4, 2014
The tweet linked back to a St. Louis County Police City of Fenton Precinct Facebook post about Airsoft pistols, the type Rice had been carrying. The Fenton PD's post advised parents and officers to warn children of the dangers of playing with realistic-looking toys. "If the type of gun is in question by the witness," it warned, "the Police will respond as though it is a real gun until it can be confirmed one way or the other." That post was since deleted, but a screenshot is below.
Mediaite spoke with Aaron Dilks, a neighborhood police officer who wrote the post. "I too was a kid, and I too would have done the same thing as Tamir Rice did," Dilks said. "I was allowed to go play with guns, and have BB guns — we didn't have Airsofts at the time. The point of the 'kids will be kids' is that's what kids will do…The point of putting [the post] out was to educate and make sure something like this doesn't happen in the city of Fenton or in our area."
As for Rice, Dilks said, "It's a tragedy. It's a shame that a child got shot. I guess that's all I should probably say about it."
The full post is below: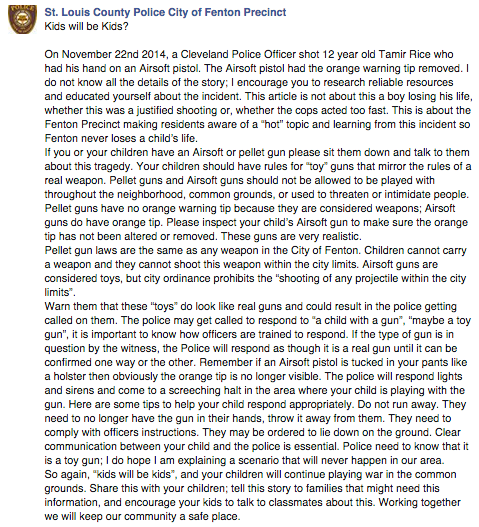 [Image via screengrab]
——
>> Follow Evan McMurry (@evanmcmurry) on Twitter
Have a tip we should know? tips@mediaite.com