St. Patrick's Day Parade Organizers Act Like They've Never Seen Green in a Rainbow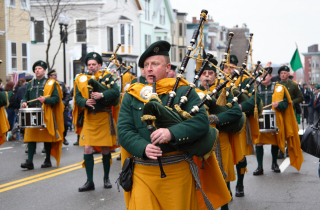 South Boston's St. Patrick's Day parade organizers are pretending they've never seen green in a rainbow.
In what some call historic and others call "finally," organizers sat down with leaders of Boston's gay community in Mayor Martin J. Walsh's office Sunday to continue talks over the LGBT community's presence in a parade that began in 1737 by the luck of the majority.

However, little could be done to convince organizers that their personal pot of gold should be re-routed. Coordinators continue to object to any signs or t-shirts that refer to sexual orientation or the word "gay," while the Immaculate Heart of Mary School from the town of Harvard has threatened to boycott the parade entirely citing an argument as insightful as finding a three-leaved clover. "[Immaculate] does not condone and will not appear to condone the homosexual lifestyle," Brother Thomas Dalton, school principal, said in a press release.
-RELATED: Anti-Obama 'Oczars' Hollywood Street Artist Forgets to Thank His Mother
Thus, the St. Patrick's Day tradition marches on with the worst kind of hangover—and the only cure is to crack some eggheads. This morning, Boston Herald columnist Margery Eagen even called for a complete Irish goodbye of the parade.
Ultimately, patrons across the country will order shots of Jameson in American bars with no concern over a stool-mate's sexual orientation, skin color, or knowledge of Irish history.
For instance, do these parade organizers know St. Patrick is famous for driving all the snakes from Ireland?
— —
>> Clark Young is, above all things, a Mainer and Red Sox fan. Follow him on Twitter here.
Have a tip we should know? [email protected]