Star Of Scott Brown Ad: President Obama A 'Fa*got,' Jews Have 'Persecution Complex' And 'Hate Themselves'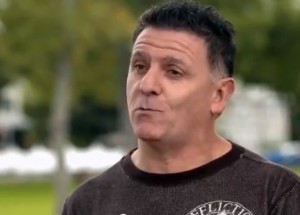 You really can't turn your head for one second in that race for U.S. Senate in Massachusetts. Incumbent Sen. Scott Brown (R-MA), last seen leveling an attack on challenger Elizabeth Warren's work as an attorney on an asbestos lawsuit that even Joe Scarborough called "desperate," is now getting what he paid for out of those attacks. The Huffington Post reports that, after Brown falsely accused Warren of using paid actors in an ad featuring the families of mesothelioma victims, it turns out Sen. Brown used a voter who was a little bit too real in one of his own mesothelioma-themed ads.
Brown has apparently moved on from attacking Elizabeth Warren with his mad blood purity-judgin' skillz, to using his equally fine-tuned "paid actor" detector. From The Taunton Gazette (which, sadly, is not published by those noisy horse-like things from The Empire Strikes Back):
During a question and answer session, one firefighter commented that both campaigns are publishing advertisements featuring family members of victims of asbestos-related illness. He asked Brown how Warren gets the victims' family members to go on her commercial.

"A lot of them are paid," Brown said. "We hear that maybe they pay actors. Listen, you can get surrogates and go out and say your thing. We have regular people in our commercials. No one is paid. They are regular folks that reach out to us and say she is full of it."
Unfortunately for Brown, that's not all they say. From The Huffington Post's Matt Sledge:
In a television advertisement running as recently this week, Sen. Scott Brown's (R-Mass.) reelection campaign featured a union construction worker whose publicly accessible Facebook page is riddled with insults against Brown's Democratic challenger Elizabeth Warren and President Barack Obama.

On one post made in August, well before Brown's ad appeared, the worker, George Patriarca, calls Warren a "DOUCHEBAG." On another he labels the president a "faggot," and on a third he says, "there is a Muslim in the White House."

…"I attended Brandeis," he says underneath one photo. "Jew U. Great school. the people, not so much. One thing I learned is that Jews have a persecution complex and they hate themselves. That is why I believe they vote for liberals."
Right about now, Sen. Brown is probably wishing he had used some paid actors. Maybe he could have asked for some referrals from the state Republican Party, who, as Rebecca Schoenkopf points out, have been paying people about eight bucks an hour to stand around in "Obama Supporters For Brown" t-shirts.
Should every politician be held responsible for everything said by the people in their ads? No, but every politician who runs his mouth without checking first ought to have something this embarrassing happen to him.
Here's the ad, via YouTube:
(h/t Rebecca Schoenkopf)
Have a tip we should know? tips@mediaite.com