Star Of Upcoming CNBC Reality Show On Sports Betting Being Called 'Fraud,' 'Ex-Convict'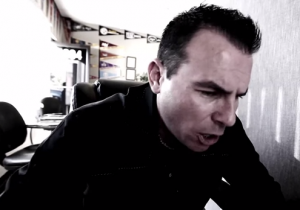 CNBC announced at the Television Critics Association on Saturday it was ordering to series Money Talks, a reality show all about the world of sports betting. The star of the show will be Steve Stevens, whom CNBC's press release describes as "a well-known handicapper" in Vegas. There's only one problem: no one in Vegas knows who he is. In addition to this, top people in the sports betting world are accusing Stevens of being a "fraud" and "ex-convict" who shouldn't be given a platform on a major network.
In a video touting his company, VIP Sports Las Vegas, Stevens boasts that he has a 71.5 percent success rate. This smelled funny to other people in the sports betting world, and according to Business Insider, almost no one credible in the industry believes it.
Bob Voulgaris, a popular sharp NBA bettor, said on Twitter last night that he'd never heard of Stevens either, calling him "a complete scam artist" for the 70% claim.

WagerMinds — a sports betting website that is focused on transparency in the industry — also said they've never heard of him in their article.

The 70% claim was a red flag for a lot of sports betting folks. Voulgaris, whom Nate Silver called the best sports bettor in the world, only wins about 57% of his NBA bets. SportsInsights ran the numbers in June and found that your chances of winning 70% of bets against the spread are about one in one trillion.
But it's apparently worse than that, as the site WagerMinds is alleging Steve Stevens is an ex-convict who's name isn't even Steve Stevens, but in fact Darin Notaro, who was arrested a few times for his involvement in a number of telemarketing scams.
A spokesman for CNBC admitted they were aware of his conviction in 1999 when asked about Stevens by Business Insider, assuring that viewers will be able to "draw their own conclusions" about Stevens and judge the show he's now starring in based on the information it gives about sports betting.
And in case you didn't think all this was enough of a character profile, check out Stevens' adrenaline-fueled video for VIP Sports Las Vegas below:
—–
Follow Josh Feldman on Twitter: @feldmaniac
Have a tip we should know? tips@mediaite.com
Josh Feldman - Senior Editor