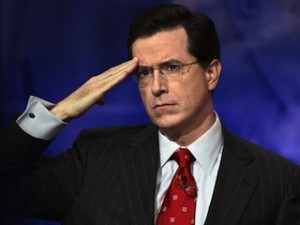 Public Policy Polling, spurred on by Stephen Colbert's efforts to sponsor the South Carolina primary, as well as attempts to get on the ballot and get behind a referendum about, "whether corporations are people or only people are people," announced on Tuesday the results of polls it conducted with Colbert's name and referendum in the mix.
"Our team at PPP," their release reads, "decided if he couldn't get all that stuff on the actual ballot, we could at least poll it for him."
So PPP rounded up 1,112 likely Republican primary voters, and found that Colbert is polling at 5%, putting him in sixth place, ahead of Jon Huntsman (4%).
More surprisingly, however, is that Colbert only has a 17% favorability rating, with 41% finding him "unfavorable," and 42% "not sure." The poll, conducted between Jan. 5 and Jan. 7, did turn up some good news for the Comedy Central host: 67% of those responding believe that "only people are people" (while 33% believe "corporations are people").
More fun findings?
-Of those voters who supported Mitt Romney in the 2008 primary, 1% would now go for Colbert. But 13% of Rudy Giuliani voters would cast their vote for Colbert, putting him behind only Newt Gingrich and Romney among Giuliani's primary voters.
-Colbert was favored by 3% of women and 6% of men.
-Colbert received 2% of his support from people over 65.
-Colbert has 2% support from those identifying themselves with the Tea Party.
The entire report is available here, courtesy of Public Policy Polling.
UPDATE: Huntsman was confronted with the numbers by Shepard Smith during an interview Tuesday evening on Fox News.
Have a tip we should know? tips@mediaite.com