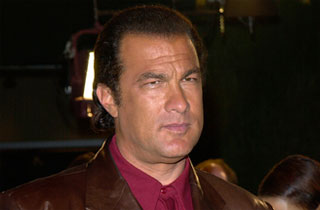 It's not cool these days to be Vladimir Putin's best friend, as Steven Seagal just learned: in the wake of Putin's alleged involvement in the downing of MH17, an Estonian blues festival abruptly yanked the former action star from its headlining slot.
Not many people know that Steven Seagal is 1) relevant, or 2) a blues singer and guitar player. Apparently he is both, and on the morning of June 17th, his band was announced as the headlining act of Augustibluus, a blues festival in Estonia celebrating its 20th year. It prompted a huge outcry among Estonians, particularly because Seagal previously vocalized his support for Putin's annexation of the Crimea — specifically, he called the invasion "perfectly reasonable." (Estonians, who were formerly invaded by the Soviet Union, aren't historically fond of Russian aggression.)
Later that day, pro-Russian separatists shot down a passenger jet using surface-to-air missiles that were likely supplied by Russia. The next day, according to the Guardian, Seagal was yanked from the lineup via press release:
"We hoped the Estonian public would first and foremost see Steven Seagal as an actor and a musician. It turns out what they saw was rather a politician and a henchman," festival director Indrek Ditman said in a press release. "To many in Estonia, it came as a major surprise that the action movie hero is a blues musician. Likewise, the organisers and numerous others were unpleasantly surprised by his political views and public statements."
This may throw a wrench into Seagal's plans to move to Russia, along with Gerard Depardieu.
[The Guardian]
[Image via screenshot]
—
>> Follow Tina Nguyen (@Tina_Nguyen) on Twitter
Have a tip we should know? [email protected]