Stewart Suspects Hannity Is 'Acting' on Fox: 'Nobody Can Be That Consistent Ideologically'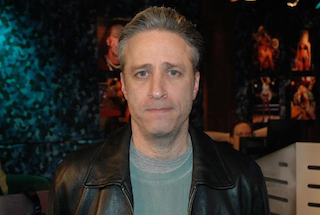 When Jon Stewart sat down for an extended interview with Howard Stern Tuesday morning, the subject of Fox News frenemies inevitably came up. But while Stewart continued to have nice things to say about his frequent sparring partner Bill O'Reilly, he also continued to express contempt for Sean Hannity.
Asked how he able to "have fun" during his various interviews with O'Reilly, Stewart said it is because he doesn't think the Fox host is being "disingenuous." And he insisted that he definitely does not "hate" the man.
"When I go home to Thanksgiving, there are people in my family that are so right-wing that they make O'Reilly look like gay Ralph Nader," Stewart explained.
RELATED: Joy Behar to Howard Stern: O'Reilly Is 'Shameless, Doesn't Give a Sh*t'
"But I think you hate Sean Hannity on Fox News," Stern said later in the interview, perhaps referring to recent comments made by Stewart in Rolling Stone.
"I don't hate him," Stewart said, "I just think he's disingenuous. I think that's a real cynical play." Asked by Stern if he thinks Hannity is "acting" on his show, Stewart replied, "It seems like it, because nobody can be that consistent ideologically."
"It's also the difference between sort of being a broadcaster and just being an ideologue," Stewart said, putting O'Reilly in the former category and Hannity in the latter.
After Stewart called him the "most loathsome" host on Fox last week, Hannity fired back by saying the Daily Show host "has his head so far up Obama's ass he cannot see clearly."
Listen to audio below, via The Howard Stern Show:
[Photo via SiriusXM]
— —
>> Follow Matt Wilstein (@TheMattWilstein) on Twitter
Have a tip we should know? tips@mediaite.com