'Stove In A Can,' Emergency Seeds, Cat Survival Kits… And Other Items Selling Well In Glenn Beck's 'Marketplace'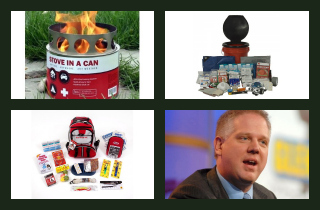 When you go shopping online this holiday season, where's the first place you go?
Most people go to Amazon, Best Buy, or eBay, but let's not forget another option:
Glenn Beck's Marketplace has plenty of useful gifts for that family member who loves to go camping… or, more likely, believes the United Nations is preparing to invade with an army of Marxist-Leninist Obama clones.
Need a "Stove in a Can" for when the Obama administration declares martial law and you are on the run in a post-apocalyptic America, trying to avoid being captured and dragged to a FEMA concentration camp? You won't be alone because it's one of the "bestsellers" in The Marketplace.
When you're on the lam from FEMA, you definitely don't want to leave behind your kids, so be sure to pick up the children's survival kit. And, of course, you can't leave behind your cat named "Reagan" or "Honor" or "Love" or whatever, so pick up a deluxe cat survival kit!
But… what if the FEMA martial law thing happens when you're at work, at your office? In that case, you may want to stock up on the "5 Person Guardian Deluxe Office Survival Kit and Bucket," packed neatly into a 5-gallon bucket with a convenient toilet-seat lid!
Want to plant your own heirloom garden when you're left starving by Obama "de-developing" America with the help of the Environmental Protection Agency? Never fear! One survival seed kit comin' up!
Oh, but wait. What if water becomes non potable because Obama followed through with his plan to ensure the Marxist caliphate spreads to the United States by allowing Iran to nuke American cities, contaminating much of the country with nuclear dust? Well… you can be prepared for that with your very own personal water filter.
And for larger-scale post-apocalyptic operations, you can always get a two-and-a-half gallon water purification system… perfect for any underground bunker or bomb shelter you painstakingly built after reading on InfoWars and hearing from Beck that the Obama administration plans to induce hyperinflation on par with the Weimar Republic, sending the country into a violent, looting frenzy.
Of course, most of these items are perfect for natural disaster preparedness and camping trips, but based on Beck's track record, one can't help but think a lot of these are there solely for purchase by the conspiracy-theorist in all of us.
— —
>> Follow Andrew Kirell (@AndrewKirell) on Twitter
Have a tip we should know? tips@mediaite.com