Stunning Photos Show Students Using Classroom Doors to Barricade Themselves From School Shooter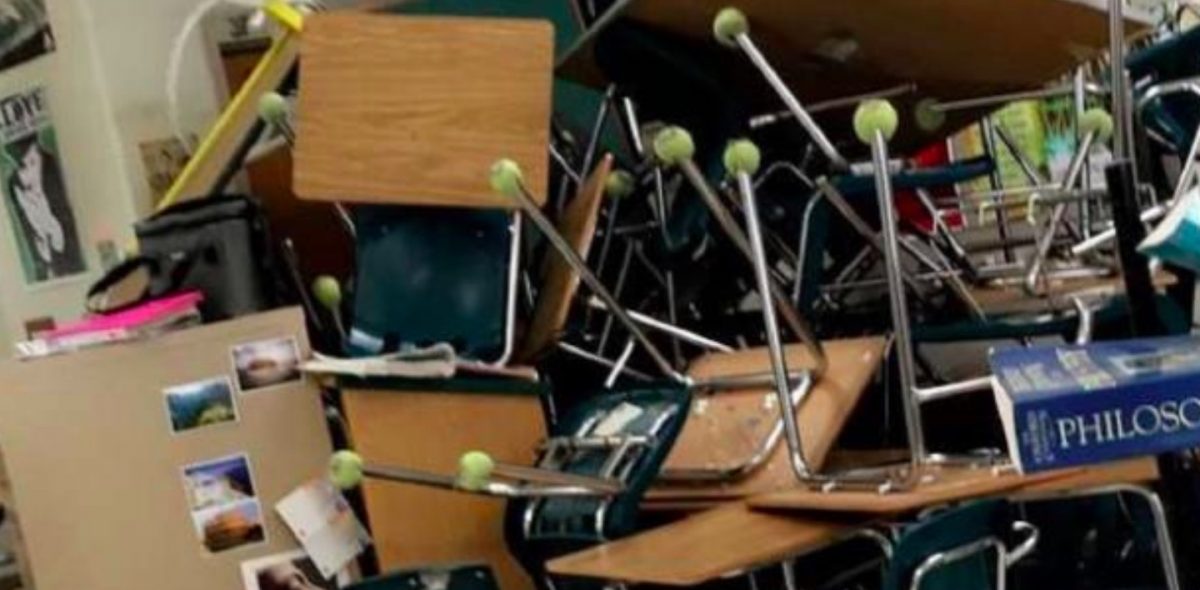 On Friday, at Forest High School in Ocala, FL, students built towering barricades against their classroom doors as a school shooter roamed the halls.
At the very same time, the National School Walkout sent thousands of students across the country out of doors.
The shooting at Forest High injured one 17-year-old student in the ankle. The student was transported to the hospital and a 19-year-old suspect was taken – without a struggle – into custody, The Marion County Sheriff's Office reported.
Meanwhile, photos of the barricades students had erected made their way across social media as the walkout continued elsewhere in the country:
These are pictures from inside Forest High School in Ocala this morning
Students built impressive barricades to keep out a school shooter
Barricade building is a skill these kids should not have to be good at#Ocala #foresthighschool pic.twitter.com/B0JW2ILQjt

— Todd LaVogue, M.S. (@ToddLaVogue) April 20, 2018
Some students can't participate in the #NationalSchoolWalkout because they are barricaded in.

This is a photo from Forest High School in Ocala, Florida where a shooting occured this morning. https://t.co/4rYM0XWYwS

— Red T Raccoon (@RedTRaccoon) April 20, 2018
This photo was taken this morning at Forest HS in Ocala, FL, when students were barricaded in a classroom frightened for their lives when they should have instead been walking out of class for #NationalSchoolWalkout day–on the anniversary of the tragic Columbine shooting. pic.twitter.com/rSaLFN5bmc

— Mai Khanh Tran M.D. (@DocTran2018) April 20, 2018
Instead of participating in the #NationalSchoolWalkout as planned with peers across America, students at Forest High school, Ocala, FL were barricaded in their classrooms hiding from a school shooter. The time to act on common-sense gun safety reform is now. https://t.co/F4dhT5uZcU

— West End Strategy Team (@WestEndStrategy) April 20, 2018
A student at Forest High School in Ocala, Florida, took this photo after other students and a teacher barricaded themselves in their psychology class during today's school shooting.

One student was shot. ENOUGH IS ENOUGH. #NationalSchoolWalkout pic.twitter.com/Ch3fZ1rZX4

— StanceGrounded (@_SJPeace_) April 20, 2018
Today is the #NationalSchoolWalkout but Forest High school in Ocala, Florida can't participate because they're barricaded in after a shooting there. pic.twitter.com/e9fUjgdSUh

— Mike Flannigan (@MikeFlannigan59) April 20, 2018
"It's a shame what society has come to in that we even have to be here on a school campus. Society has changed since I was in school," Billy Woods, Marion County Sheriff, told CNN. "We as a whole need to do something. My emotions are running rampant."
[featured image via Jake Mailhiot]
Have a tip we should know? tips@mediaite.com