Survey Says: 74 Percent of People Around the World Have 'No Confidence' in Trump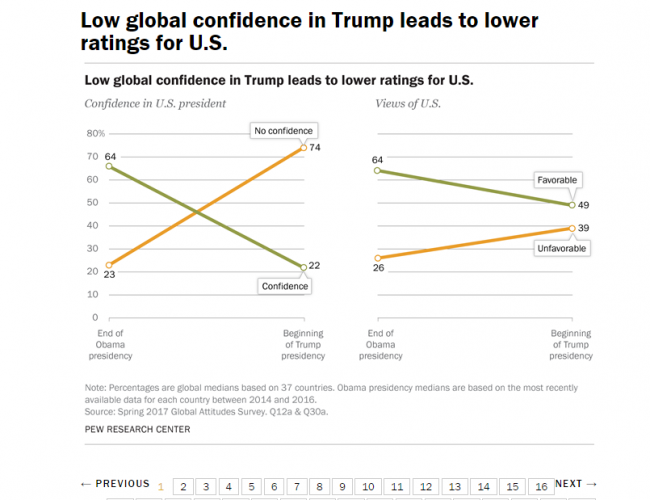 A new survey by the Pew Research Center surveyed 37 countries and found that 74 percent of respondents said they have no confidence in President Trump to do the right thing when it comes to international affairs.
The study also included a similar survey done when Barack Obama was president, showing that when he served as Commander in Chief, 64 percent of those surveyed said they trusted him with international affairs.
In the same study, respondents were asked their views of the U.S., which revealed only 49 percent favorable since Trump became president, a 15 percent decline from the Obama era.
In regards to his character, the authors said: "In the eyes of most people surveyed around the world, the White House's new occupant is arrogant, intolerant and even dangerous. Among the positive characteristics tested, his highest rating is for being a strong leader. Fewer believe he is charismatic, well-qualified or cares about ordinary people."
The article broke down their findings by each country, which revealed that 35 of the 37 countries surveyed lowered their confidence of Trump. The only two that said they had more confidence in Trump than Obama? Russia and Israel.
Israel showed a 7 percent increase while Russia had a whopping 42 percent increase in that metric.
The survey asked 40,447 respondents in 37 countries outside the U.S. from Feb. 16 to May 8, 2017.
[image via screengrab]
Have a tip we should know? [email protected]
---