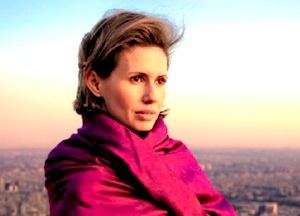 The UK's Daily Telegraph obtained leaked emails that uncovered that the Syrian First Lady Asma al-Assad revealed to a friend that she was the "real dictator" of the country. "I am the REAL dictator, he has no choice …", al-Assad allegedly said.
RELATED: Vogue's Love Letter To Asma Al-Assad
In other leaked documents, al-Assad made light of the suffering of the Syrian people in Horns, in an email she circulated in late January.
According to The Guardian, this week, al-Assad has used her position of power, in the midst of conflict, to go on lavish spending sprees, as our sister site Styleite's Verena von Pfetten details:
• A $4,150 Ming Vase from Harrods (on sale for 15% off!)

• An Armani light

• $13,500 worth of Christian Louboutin shoes, though it's unclear whether she actually purchased any. In the email, she forwards an exclusive offer to two of friends, noting "these pieces are not made for general public". Sadly, neither of them went for it, responding, "I don't think they're not [sic] going 2 b useful any time soon unfortunately.. And my shoe closet doesn't need more friends.. So I'm gonna pass as well.."

• $46,000 of chandeliers, tables, and candlesticks from a furniture store in Paris.

• Bedside tables from London-based Baker Furniture that sadly did not match.

• Four necklaces from a fine jewelry boutique in Paris, though al-Assad notes that she is "absolutely clueless when it comes to fine jewelry". Here is how she described them:

– 1 Turquoise with yellow gold diamonds and small pave on side
– 1 Cornaline with yellow gold diamonds and small pave on side
– 1 Full Black Onyx with yellow gold diamonds and small pave on side
– 1 Amethyst with white gold diamonds and small pave on side.

She also emailed a London art dealer inquiring about pieces ranging form $7,000 to $55,000
Additionally, she was controversially featured last year in a glowing profile for Vogue, which has since been removed from the internet following the Arab Spring.
Watch a report of al-Assad's emails below via Fox News:

(
h/t Daily Telegraph
)
Have a tip we should know? tips@mediaite.com