Talking Points Memo Celebrates 10th Anniversary; Launching Paid Subscription Service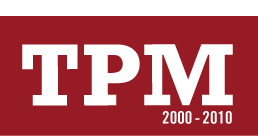 Talking Points Memo celebrates its tenth anniversary this week with some news hinting at its future and its position in the online news ecosystem. The pioneering left-wing political blog, launched by Josh Marshall on November 13, 2000, has grown tremendously over the last ten years — expanding from one man to dozens of staffers, winning awards for its coverage, and establishing itself as one of the most innovative online news organizations.
In an interview today with Nieman Journalism Lab's Laura McGann, he discusses TPM's future, including plans for a paid subscription service (but not paywall) to launch in 2011:
LKM: A while back, you teased the idea of a membership model, where paid TPM members might get extra content or access. Do you imagine that model coming to fruition in the next year or two?

JMM: We're hoping to do that in the first half of 2011. But to be clear, we're never moving to a paywall model.
He also told Yahoo's Michael Calderone about the changes TPM has experienced over the last ten years, and how it has shifted from "blog" to website:
TC: Nick Denton recently said that he's bored with blogs and that Gawker Media sites will shift to a new format next year. Clearly, TPM has grown a lot from a one-man operation and strictly reverse-chronological posts to a more comprehensive site with staffers in New York City and Washington. And yet, it's still described in the "about" section as a blog. Do you consider TPM a blog or an online news outlet or are these just arbitrary distinctions?

JM: I don't think of it as a blog. And we've stopped referring to it as one in most of our materials. To me, a blog is something done by one person or maybe a small group of people. And the key is that it's something that person does: They're following their own instincts and interests; they're not taking assignments from an editor. But if you look at how TPM operates, it's not remotely like that. We have a squad of reporters who report to editors. And those editors report to a managing editor. … I think of it as a news organization, a news website. That's what it is.
Have a tip we should know? tips@mediaite.com