Tapper Defends 'Bridgegate' Coverage: Shouldn't Cover 'Feverishly' but 'It's Clearly a Story'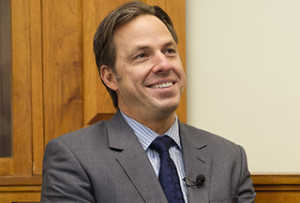 CNN's Jake Tapper made a radio appearance today with WPHT's Dom Giordano to talk about the media coverage of "BridgeGate," and Tapper acknowledged that while some of it has been excessive, it's still a real, "definitely newsworthy" story that deserves attention. Tapper talked about the newest allegation against Chris Christie, that his lieutenant governor allegedly threatened to withhold Hurricane Sandy funds if the mayor of Hoboken didn't approve a development project in her town. And while Tapper said it "sounds fairly corrupt," so far there's not enough evidence to say anything with absolute certainty.
He defended his own coverage of the New Jersey drama, saying "We haven't been covering it feverishly as if this is the only story worth covering, but we have been covering it and I think it's clearly a story." And without naming names, Tapper also said he's noticed some people in the media going to town with this "as if there is nothing else going on in the world with an energy they have certainly not dedicated to other questions about other leaders."
Giordano brought up the argument that the media is covering this more than other scandals like, say, Benghazi because it's easier for the public to digest. Tapper said it's "difficult" to compare scandals, but nevertheless it's "very easy to understand" BridgeGate whereas with something like the IRS, it's a more complicated case, a lotta ins, a lotta outs, a lotta what-have-you's.
Listen to the audio, via WPHT:
[photo via Eli Burakian]
— —
Follow Josh Feldman on Twitter: @feldmaniac
Have a tip we should know? [email protected]
Josh Feldman - Senior Editor