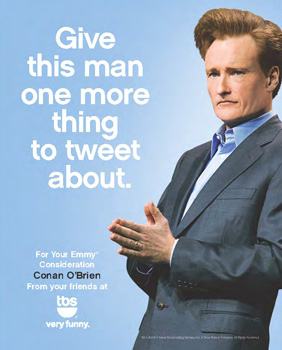 TBS is not afraid of doing some collateral good to a competitor in the name of supporting their own talent. Several months removed from the debut of Conan O'Brien's new late-night program on their network, TBS is doing some unorthodox advertising, buying up ad space in Hollywood magazine Variety to endorse NBC's Tonight Show with Conan O'Brien for an Emmy nomination.
Variety usually takes "for your consideration" advertising of this kind from networks trying to push their own shows, though having one network promote another is, to say the least, a bit strange– of course, not quite as strange as the situation that brought O'Brien to TBS in the first place. TBS is paying for two ads to run– neither referring to the fact that the Emmy would technically go to an NBC show. From the New York Times:
In a series of ads that will begin to appear in Tuesday's editions of the Hollywood trade paper Variety — the traditional spot where paid "for your consideration" notices are placed — TBS is asking Emmy nominators to remember Mr. O'Brien.

One ad includes a large photo of Mr. O'Brien, reminiscent of one of the now-familiar "Team Coco" posters, and the message: "Give this man one more thing to Tweet about." (Mr. O'Brien has built a legion of followers on Twitter with daily comic messages.) Another ad takes off on the comedian's famous paleness by urging a vote for Mr. O'Brien for "Outstanding Achievement in the use of SPF 50."
Besides being a nice housewarming gift, especially since one of the biggest concerns from the Late-Night wars seemed to be whether O'Brien was receiving enough support from his network, it's a pretty smart promotional move. Should Conan win the Emmy, it would boost his stature in the TV world just as much as TBS', and now NBC would not solely have forced the departure of a performer with a massive youth following, but of someone who won them an Emmy the year he found himself needing to depart. If he doesn't win but gets nominated, possibly running against The Tonight Show with Jay Leno, his entry into the competition will dominate the news cycle. And in the worst-case scenario that the campaign amounts to nothing, they will have bridged at least part of the summer gap while keeping O'Brien in everyone's minds until they can properly begin advertising his new fall show.
Have a tip we should know? tips@mediaite.com