Tea Party News Network Staffers Resign en Masse, Citing 'Despicable Practices'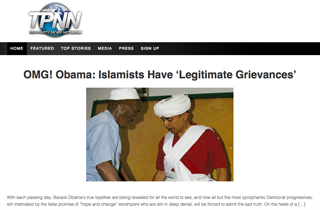 Today, a chunk of staffers from the Tea Party News Network, a news site with nearly 12 million unique visitors per month, sent in their resignations over the company's "despicable practices."
The resignation came soon after the publication of a Daily Beast exposé about the news outlet, which has seen incredible traffic numbers coupled with what its readers perceive as a decline in the quality of content, sometimes with little connection to tea party issues. (One recent headline: "Big Strutting Peacock Picks A Fight With The Wrong Guy.")
The exposé also shone light on some of their business practices, such as the fact that the Tea Party News Network's Facebook page regularly posted content from different websites, such as "Fights.buzz, which shows street altercations of the type that are banned from YouTube." The sites are all owned by TPNN's owner, Todd Cefaratti, and are all for-profit, while TPNN itself is a non-profit site.
This is a problem for the staff, some of whom sent a resignation letter to brass indicating this was the final straw. "Unfortunately the 'coalition' of companies and groups you collectively run has not been operating with the honor that people should be able to respect."
Blasting the lack of transparency surrounding the revenue from the network's Facebook page and the quality of the content they were forced to produce — "The Tea Party is not TMZ and TPNN is not WorldStar", they declared — the group then turned to condemning their management skills:
You regularly show contempt for the people who make all your financial success possible. The writes who work around the clock to produce timely and breaking content is regularly reminded that "writers are cheap." The audience is regarded as unsophisticated simpletons. The activisim that built all the infrastructure is considered a "pain in the ass" not as an opportunity to save the country.
It's a damning letter from staffers of a site that was described by tea party hero Joe "The Plumber" Wurzelbacher to the Daily Beast like this:
"I won't click on those damn stories. It's about the shock factor. It has nothing to do with politics. It has to do with clicks. How far are they willing to go to compromise their integrity? It makes me sick, it makes me angry. It makes me want to go kick someone's ass."
The entire letter below:
Full Tea Party News Network resignation letter from staffers: pic.twitter.com/JWOEzhKI6y

— CJ Ciaramella (@cjciaramella) February 19, 2015
[Image via screenshot]
—
Have a tip we should know? tips@mediaite.com