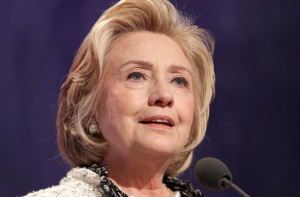 The 2016 election may still be 426 days away, but one campaign is already throwing a Hail Mary on the PR front. The proof comes via Sunday's Washington Post and New York Times, in which the former paints a picture of Hillary Clinton, who says she will engage in a more "joyful" campaign moving forward (because, as Jeb Bush is learning, that's not something you can just order next-day shipping on Amazon Prime).
Per the first few paragraphs of the Post piece: After a wilting summer, Clinton hopes for a fall rebound:
New humble posture when asked about her use of a private e-mail system for government work? Check.

New reckoning with the possibility that she may lose the New Hampshire primary, and perhaps even the Iowa caucuses? Check.

Feisty, give-as-good-as-she-gets zingers about Republican front-runner Donald Trump? Newsy policy speeches like one on Iran, slated for Wednesday? Not-so-subtle muscle-flexing to discourage a challenge by Vice President Biden? Check, check and check.
Before moving on to the similar New York Times article, let's break down the language in the WaPo piece first in describing the "new" Hillary Clinton via campaign strategists: "humble posture," "feisty," "give-as-good-as-she-gets-zingers," "muscle-flexing." Cue the collective facepalms, because we've seen this reinvention movie before in a presidential election via Mitt Romney, a candidate who tried desperately not to be the Gordon Gekko many in the media and the Obama campaign successfully portrayed him as being. Remember the visuals from '11 and '12? Mitt only wore jeans and button-down shirts. He talked about his love for grits when campaigning down south. He was just your average, everyday millionaire. Nobody really bought it… and it only added to the perception that Romney wasn't authentic. A nice guy, sure. A sound manager and delegator — absolutely. But ultimately a programmed robot out of touch with the challenges facing real Americans.
Sound familiar? That's Hillary in 2015. Unlike her husband — who can be found as easily as Edward Snowden these days — she isn't likable nor CWE (charming while elusive). Her brand, which Americans have absorbed for almost 25 years, is established and cannot be altered. Mrs. Clinton can change her approach in the ways outlined in the Post piece as much as she likes. But in the end, you can't just change a decades-old persona simply by declaration. Because if Hillary suddenly starts being a different person (again), Americans, most particularly Democrats, are simply going to roll their eyes and either pray Joe Biden (who is patently authentic) enters the race or continue to jump to Bernie Sanders, who will never need his aides to run to the press with the big news that he's opting for a new public persona because his numbers are in a nosedive.
Per a Sunday headline in The New York Times: "Hillary Clinton to Show More Humor and Heart, Aides Say."
Because everyone sitting at home will buy that, right? Again, think of the overarching (now obvious) theme of this campaign season: If you aren't genuine, if you aren't your true self, don't even bother. Trump is Trump, flaws and all. He's the same guy from The Apprentice, same guy we've seen in interviews for years: Unfiltered, fearless, thin-skinned, unapologetic, impulsive (especially on Twitter, which doesn't reflect well on those seeking the presidency), and self-assured. Ben Carson: Soft-spoken, confident, authentic. Carly Fiorina: Anything-but-soft-spoken, commanding, assertive. John Kasich (now a quiet second in New Hampshire): Pragmatic, folksy-articulate, honest. Biden: Likable, trustworthy, caring. Sanders: No BS, all business, has a clear vision of what he wants to accomplish.
All are resonating despite the experts saying they didn't have a chance when this rollercoster began. And one of the six above will emerge with 270 electoral votes when November 8, 2016 rolls around.
When Quinnipiac did a recent survey on words that best describe Hillary Clinton, here were the three that came to mind most (unprompted): Liar, dishonest, untrustworthy. So what's the campaign's plan to remedy this?
Have her show more humor, more heart. Act more feisty. Throw out some new zingers along the way. Be more humble. And of course, given every hour is amateur hour when it comes to this campaign…announce this metamorphosis to the world. Good grief.
George Will shared a perfect analogy on this very topic on a Labor Day edition of Fox's Special Report:
Will: "The oldest parable in American politics is about the guy who decides to go into the dog food business. Gets all the best ingredients. Wonderful label. Attractive can. Best display in all the stores…and it doesn't sell. Finally he goes into the pet store and says, 'What's the matter with my dog food? I did everything right.' (Store owner) says, 'The dogs don't like it.' The voters in this case aren't warming to the product, and there's nothing she can do about it."
Taste is taste. A brand is a brand. You can't force someone to like it. But a candidate who seems so forced will try yet another personality overhaul per her aides running to big media outlets to share the big news.
Will it work?
If what we've seen so far in this campaign season is any indication, this is what is called a rhetorical question.
[Image via Shutterstock.com]
— —
>> Follow Joe Concha on Twitter @JoeConchaTV
Have a tip we should know? tips@mediaite.com