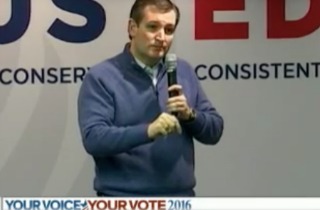 Things got a bit dicey for Ted Cruz yesterday, as he found himself in a heated exchange about his Canadian origins with a potential voter at an event in New Hampshire.
Ever since Donald Trump brought up how Cruz was born in Calgary, the Texas senator has been facing questions and critiques regarding whether he is truly eligible to be America's president as a natural born citizen. While yesterday's questioner insisted that he wasn't asking as a matter of eligibility, the man did say that it begged questions on his credibility for the fact that held Canadian citizenship until only a few years ago.
As Cruz attempted to explain how his mother was born in Delaware, The Blaze reported that he was heckled by an audience member chanting Trump's name, while the man who asked the question tried to interject.
"Sir, I will answer your question, but I'm not going to debate you," Cruz said. As the man tried to press further, Cruz became visibly frustrated as he put his foot down and said he would not have a debate on the subject.
"The facts are simple. My mom was a U.S. citizen by birth, she was born in Wilmington, Delaware. I was born in Calgary where my parents were. Now, under U.S. law, the child of a U.S. citizen born abroad is a natural-born citizen. That has been true from the very beginning of the country."
Watch above, via Princeton Debater.
[h/t The Blaze]
[image via screengrab]
Have a tip we should know? tips@mediaite.com