Watch: Ted Cruz Doles Out Parenting, Spanking Advice After Crowd Interruption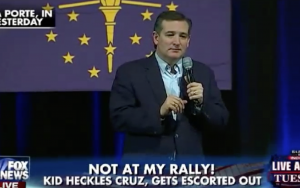 While making a routine campaign stop in La Porte, Indiana late Sunday, GOP candidate Ted Cruz — father of two — offered up some free parenting advice after a young man reportedly kept interrupting Cruz from his speech.
Evidently, upon being interrupted by the young boy, the Texas Senator used the opportunity to indirectly address the boys' parents for their child's outbursts.
A young boy just addressed Ted Cruz. Can't quite hear what he said but Ted Cruz responded saying children should learn to speak with respect

— Danielle Kennedy (@DKennedyWSBT) May 2, 2016
a young boy was just yelling at Cruz at this rally in La Porte; Cruz tells him "children should speak with respect"

— Rosie Gray (@RosieGray) May 2, 2016
Someone in the crowd is angrily shouting. Ted Cruz: Someone should have told you that "Children should actually speak with respect."

— Stephanie Wang (@stephaniewang) May 2, 2016
The Texas Senator, currently polling in second place behind surging frontrunner Donald Trump for his party's nomination, took his commentary as far as to indicate that his daughters get spanked at home when they're out of line:
Young protester interrupts Ted Cruz in La Porte, Ind. "In my household, when a child behaved that way, they'd get a spanking."

— Phil Elliott (@Philip_Elliott) May 2, 2016
Cruz to heckler: "Children should speak with respect". …"in my household when a child behaves that way they get a spanking."

— Doug Ross (@nwi_DougRoss) May 2, 2016
Ted Cruz repeatedly heckled by a young boy shouting, "you suck!" at a rally in Indiana.https://t.co/3NY52GcKfj

— FOX & Friends (@foxandfriends) May 2, 2016
So can Cruz spank the competition on Tuesday and put himself in a position to force a contested convention? Unlikely, although he is making every effort to steal the state's delegates from frontrunner Trump, whose commanding overall lead puts him in a good position to do well Tuesday. Trump still holds an 8 point lead heading into Tuesday's primary according to the latest Real Clear Politics polling data.
Watch the above video from Fox & Friends.
—
[images via Flickr & Wikipedia Commons]
Have a tip we should know? tips@mediaite.com