WaPo Caves Into Pressure, Deletes Cartoon Depicting Cruz's Children Amid Backlash (UPDATED)
WaPo
Caves Into Pressure, Deletes Cartoon Depicting Cruz's Children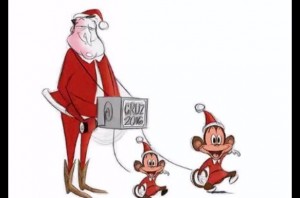 Ann Telnaes, an editorial cartoonist from The Washington Post, created and published a cartoon recently that depicted GOP candidate Ted Cruz and his children (the cartoon was actually a GIF since it's 2015 — what would Charles Addams say to GIFs, I wonder?).
In her write-up for The Washington Post online, Telnaes acknowledges that, "There is an unspoken rule in editorial cartooning that a politician's children are off-limits." However Telnaes clarified why her recent artwork was deserving of exemption status from that unspoken rule:
But when a politician uses his children as political props, as Ted Cruz recently did in his Christmas parody video in which his eldest daughter read (with her father's dramatic flourish) a passage of an edited Christmas classic, then I figure they are fair game.
The video in question stars the Texas Senator alongside his two daughters reading parody Dr. Seuss "classics" like "How Obamacare Stole Christmas". Telnaes wasted no time in hitting at the heart of the parody, and illustrated Cruz as a boot-sporting Santa organ grinder making his children monkey dance:
Ted Cruz uses his kids as political props https://t.co/gKT8Jhjm17 pic.twitter.com/GNfoP4batF

— Ann Telnaes (@AnnTelnaes) December 22, 2015
Within an hour, Ted Cruz took to Twitter to bash the "classy" display from The Washington Post cartoonist, noting that his daughters "Caroline & Catherine are out of your league."
Classy. @washingtonpost makes fun of my girls. Stick w/ attacking me–Caroline & Catherine are out of your league. https://t.co/N61ys6z8w1 — Ted Cruz (@tedcruz) December 22, 2015
On Tuesday morning, Telnaes hinted of the possibility that she might take square aim at Cruz's decision to use his daughters in the comedy sketch, cryptically Tweeting the following:
Ted Cruz has put his children in a political ad- don't start screaming when editorial cartoonists draw them as well. https://t.co/7hafBacOiK — Ann Telnaes (@AnnTelnaes) December 22, 2015
We will update this post with the latest in the great Winter Solstice cartoon war of Cruz v. WaPo.
UPDATE — 10:47 P.M. ET: It appears as if the Washington Post has caved to the pressure amid backlash from Senator Cruz, as the original post has been removed and Telnaes' original Tweet — which we originally embedded up above — as been deleted.
An Editor's Note from Fred Hiatt on the link that formerly included Telnaes' cartoon includes the following:
It's generally been the policy of our editorial section to leave children out of it. I failed to look at this cartoon before it was published. I understand why Ann thought an exception to the policy was warranted in this case, but I do not agree.
A screengrab of the original Tweet from Telnaes is here: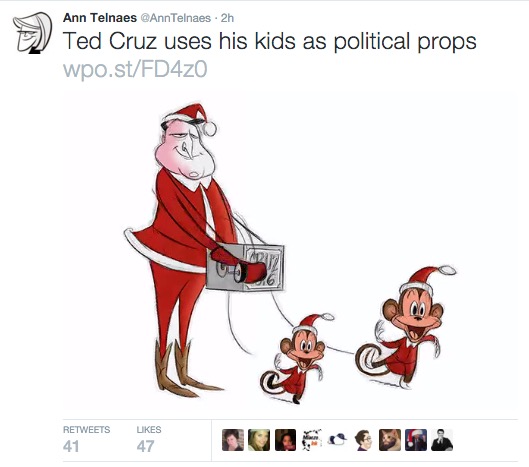 [image via Ann Telnaes on Twitter]
—
>> Follow J.D. Durkin on Twitter (@MediaiteJD)
Have a tip we should know? tips@mediaite.com