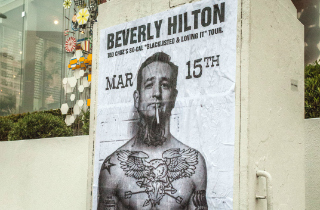 While the process has been in the works for years now, the exact moment at which tattoos stopped seeming edgy and cool can be dated to Thursday night in California. The cause of death was a series of posters plastered around Los Angeles of a shirtless Sen. Ted Cruz covered in ink with a cigarette dangling from his mouth, looking like a cross between a gang-banger and a Social Distortion fanboy.
Social Distortion are a very influential So-Cal band known for their bluesy punk and rockabilly style, something I wouldn't assume needs explaining anywhere else besides an article about Ted Cruz.
Despite having his head photoshopped onto the type of body that Cruz supporters live in mortal terror of on a daily basis, the reactions online to the makeover from some on the right have been rather positive.
"Actually, kinda cool looking," wrote one Free Republic commenter. "Maybe we can all get tats and stuff and form a 'gang'. Call it the Patriot Gang or something. Put some drive-by fear into the liberals."
Maybe!
"The Ted Cruz posters make me want to go get a giant eagle tattoo," tweeted another Cruz supporter.
You can't really blame them, I suppose, this literally being the first time a Republican has ever appeared with a modicum of cool in known existence, unless you count the time Rand Paul came out as a Minor Threat straight-edge hardcore fan a couple weeks ago.
The posters, as Breitbart reports, "have appeared in front of popular L.A. Clubs: the Viper Room, the Seventh Veil, Whiskey-a-Go-Go, as well as on car windshields and utility poles among other places."
Look closer, and the piece on his right arm appears to be an image of the old British Bulldog himself, which makes sense because Cruz is scheduled to appear at the Claremont Institute's annual Winston Churchill dinner. The dinner in question, however, will be held at the Beverly Wilshire Hotel, not the Beverly Hilton, as the posters advertise. Perhaps a bit of misdirection from libtards hoping to confuse attendees on their way to their event? Although that doesn't make add up, because anyone attending a Claremont Institute dinner would be cowering in the backseat afraid to look out the window driving in any of the neighborhoods where they appeared. Tickets for the sold-out event range between $250-15,000.
So what does it actually mean? No one has taken responsibility for the posters as of yet, but it certainly paints Cruz in a different light than we're accustomed to seeing him. Unless you count his days as an actor at Harvard getting too wasted on Everclear to perform. Maybe he's cooler than we've thought this whole time.
At the very least, he's got a sense of humor about it:
Saw this, but noticed an error. So I wanted to make one thing clear: I don't smoke cigarettes http://t.co/3nn2740kkP pic.twitter.com/tPFNqg9vu8

— Ted Cruz (@tedcruz) March 15, 2014
UPDATE: The images appear to be the work of a Los Angeles artist Leonard Sabo, who posted an attempt at the design back on March 9. I've reached out to Sabo for comment, and will update when I hear back. His political and artistic views are, uh, interesting, to put it mildly, most offensive of which is that he seems to think Cruz could actually be president some day.
— —
>> Luke O'Neil is a journalist and blogger in Boston. Follow him on Twitter (@lukeoneil47)
Have a tip we should know? tips@mediaite.com