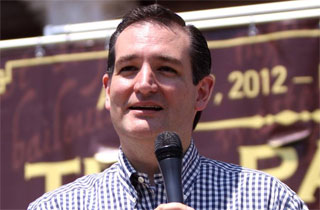 Back in the day, Sen. Ted Cruz (R-TX) was a college debater at Princeton University, and a notorious one at that: He frequently made it into the final rounds of national tournaments on the strengths of his rhetorical prowess and hyperbolic statements. However, he seemed less than adept at humor. Very less than adept.
In what we can only describe as "a wholly unnecessary but yet very necessary article," The New York Times looked at Cruz's history on the college debate circuit, discovering the origins of his favorite political strategies: brinksmanship and hyperbolic rhetoric, which, "no matter which side he was arguing, rubbed more experienced judges the wrong way." But apparently, humor was his Achilles' heel, in the most literal sense of the term:
"Nobody was better at setting traps," said Austan D. Goolsbee, a Yale debater who became a leading economist for President Obama. He recalled Mr. Cruz's attempts to control debates with carefully constructed arguments that always seemed to anticipate his opponents' rebuttals.

But Mr. Goolsbee and other top debaters on the circuit who frequently beat Mr. Cruz discovered it was easy to get under his skin, especially with humor. "It would unravel him," Mr. Goolsbee said.

In one round, Mr. Goolsbee pointed out that the story of Mr. Cruz's father coming to America, as compelling as it sounded, was not entirely relevant to, say, the federal deficit.

"How dare you insult my father!" Mr. Cruz replied.
And then there's the hymen story — yes, The Hymen Story, which seriously made this author's reproductive system shrivel:
Mr. Cruz's own attempts at humor sometimes missed the mark. In one debate, he proposed a method to detect infidelity, in which God should "give women a hymen that grows back every time she has intercourse with a different guy, because that will be a 'visible sign' of the breach of trust," according to a recollection by David Kennedy published in a Harvard debate team reunion booklet in 2001.
Kennedy's female partner immediately mocked Cruz's vaginal humor, "contorting herself to see how the anatomy in question could be 'visible'".
Since it's been over 23 years since Cruz left college debate, he's probably gotten somewhat better at dealing with humor — the Times actually found one example in which he made a funny! That being said, any potential debate opponent in the 2016 primaries should get their speechwriters cracking on some Cruz jokes.
[Image via Ted Cruz/Facebook]
—
>> Follow Tina Nguyen (@Tina_Nguyen) on Twitter
Have a tip we should know? tips@mediaite.com