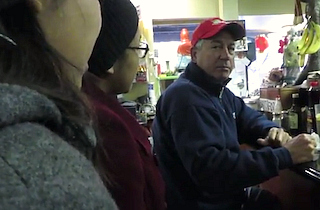 Two teenage activists from the Fair Immigration Reform Movement confronted House Speaker John Boehner (R-OH) at popular D.C.-spot Pete's Diner on Wednesday morning and pressed him to bring the Senate's immigration reform bill to a vote.
Jennifer Martinez, 16, and Carmen Lima, 13, found Boehner, clad in a ball cap and jeans, waiting for his breakfast at the diner, and cordially asked if they could speak with him while he waited.
"You're a father right?" one asked. "So how would you feel if you had to tell your kids at the age of ten that you were never coming home?"
"That wouldn't be good," said Boehner.
Lima said that the very thing had happened to her.
RELATED: Tea Party Crowd Cheers as GOP Rep. Tells 11 Year Old Her Father Will Be Deported
"Well, I'm trying to find some way to get this thing done," Boehner said. "It's not easy. Not gonna be an easy path forward. But I've made it clear since the day after the election that I'm going to get this done."
"So we can count on your vote for immigration reform?" Lima asked.
"I will try to find a way to move the bill forward," Boehner said.
House Minority Leader Nancy Pelosi (D-CA) quickly shot back at Boehner on Twitter: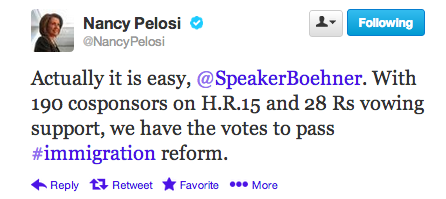 But later Wednesday morning, Boehner said he would not allow a House bill to go into conference with the Senate version, effectively dooming the reform effort.
Watch the clip below:
[h/t TP]
[Image via screengrab]
——
>> Follow Evan McMurry (@evanmcmurry) on Twitter
Have a tip we should know? tips@mediaite.com