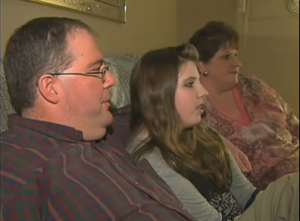 Justine Williams, a 14-year-old girl from North Andover, Massachusetts who lost her leg to cancer at age 11, obviously knows a thing or two about dealing with hardship. But we're not so sure she – or anyone her age – was equipped to deal with the torrent of bullying she received from an unlikely source.
The middle schooler received multiple messages threatening to kill her animals, set a bomb off outside her home, and rape her. After Williams received over 90 such anonymous, threatening (and, in some cases, sexually explicit) text messages within a month, her parents decided to get police involved. The culprit? None other than her 13-year-old best friend and fellow classmate. The teen had been using a website to hide her number, and sent the menacing texts via Skype.
The bully eventually confessed and was sentenced to 20 hours of community service, in addition to receiving eight to ten therapy sessions and being forced to write Justine a letter of apology. But Justine's parents are considering taking the case to civil court. "If this is middle school," asks Justine's father, "what's this person going to be like in high school?"
My Fox Boston has a statement from an Essex County D. A. spokesperson:
Alternative dispositions in juvenile matters are never considered without the consent of the victim's family. In this case we spoke to the victim's mother, who wanted the other girl to get counseling. Then in conjunction with the North Andover Police Department we put a plan in place that we believe addresses the situation. If all conditions are not successfully met the case will be brought forward in court. The situation has been closely monitored, and there have been no further problems
Take a look at a report about the case, at WCVB TV.
h/t MyFoxBoston and WCVB via the Huffington Post
Have a tip we should know? tips@mediaite.com