Texas GOP Chair: State Could Become Battleground As Early As 2016 — Especially If Hillary Clinton Runs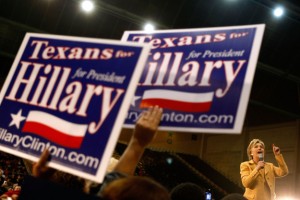 Texas is generally thought of as a solid Republican state. But the state's GOP chair told RealClearPolitics that it may not be so staunchly red in the near future, as early as 2016 — especially if Hillary Clinton runs.
Steve Munisteri said Republicans are aware of the effect a Clinton candidacy would have… and yes, it would certainly have an effect.
"If she's the nominee, I would say that this is a 'lean Republican' state but not a 'solid Republican' state," he said. "I don't know anyone nationally who's scoffing at this. The national party leadership is aware and tells me they're taking it seriously."
The GOP, however, will be fighting back, he added. "It's not like the Democrats get to come in here and fire all the ammunition and no one fires back at them," Munisteri said. "With everything aligned perfectly, and we don't do what we're supposed to do, sure they could win the state. But I anticipate we'll do what we're supposed to do."
Tanene Allison, communications director for the state's Democratic Party, offered a similar, but surely more optimistic, view:
"I think that in 2016 it will absolutely be considered a swing state in the sense that presidential candidates will have to campaign here, which they haven't been doing for a long time," Allison said. "If Hillary Clinton does run, she does really well in Texas."
Hardly surprising how much of this discussion again revolves around Clinton's potential run.
(h/t RCP)
Have a tip we should know? tips@mediaite.com