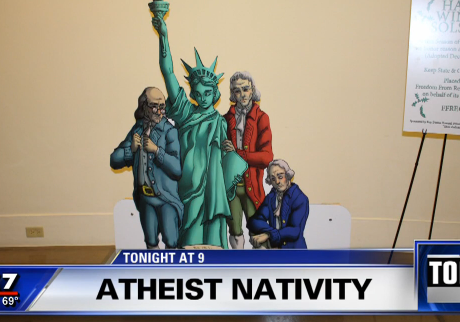 Texas Governor Greg Abbott Tuesday ordered the removal of a secular nativity scene featuring the U.S. Constitution in place of Baby Jesus, insisting the display was "intentionally designed to belittle and offend" people's religious beliefs.
The Freedom From Religion Foundation and Texas legislator Donna Howard sponsored the display, which depicted the Founding Fathers and the Statue of Liberty gathered around the Bill of Rights. The exhibit is entitled "Bill of Rights Nativity and Winter Solstice Display."
In a letter to Texas Preservation Board's executive director John Sneed, Abbott called for the immediate removal of the "juvenille parody" that mocks "the sincere religious beliefs of others."
"The exhibit places the bill of rights in a manger and shows three founding fathers and the Statue of Liberty worshipping one of America's founding documents as a replacement for Jesus Christ," Abbott wrote, later adding it "promotes ignorance and falsehood insofar as it suggests that George Washington, Benjamin Franklin, and Thomas Jefferson worshipped (or would worship) the bill of rights in the place of Jesus.
"Subjecting an image held sacred by millions of Texans to the Foundation's tasteless sarcasm does nothing to promote morals and the general welfare," Abbott added.
In a statement, FFRF Co-President Annie Laurie Gaylor said it was ironic the "very document that our display was honoring is what protects" the secular nativity scene. "Government officials cannot censor our speech because they disagree with our secular message," she wrote.
The FFRF said it intends to take legal action against the governor. "What Governor Abbott has done here is clearly illegal and sends a message to Texans that there is no room at the inn for anyone but Christians," FFRF staff attorney Sam Grover said in statement.
"We are disappointed that Governor Abbott has let his personal opinion of FFRF and free thought be a catalyst for the censorship of our display in the Texas Capitol," he added. "Removing our Bill of Rights 'nativity' while allowing a Christian nativity to be displayed in the Capitol is discriminatory and illegal. Abbott is sending the message that nonbelievers are second-class citizens in Texas. He should be ashamed."
Watch Fox29's report above.
[Image via screengrab]
—
>> Follow Elizabeth Preza on Twitter (@lizacisms)
Have a tip we should know? tips@mediaite.com