Texas Governor Rick Perry Assays Weak GOP Candidates, Thinks 'I Can Do This'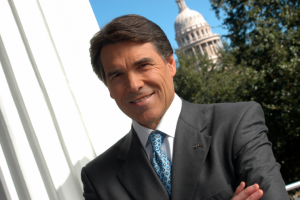 Add Texas governor Rick Perry's name to the growing list of potential GOP candidates. Perry, who recently shared his views regarding the Obama administration's take on border security, had previously insisted he had no interest in running for president, but, evidently, political associates have begun testing the waters and gauging interest on his behalf now that he's noted a "vacuum" in the race. Either way, Perry's aides insist that he would not throw his hat into the race until after the state's legislative session comes to an end at the end of this month.
But, if his intent is there, he's yet to make it widely known. In an email to RealClearPolitics, Dave Carney, a political strategist who is currently working on Newt Gingrich's presidential bid, said this is all news to him:
The Governor has not called anyone about running for POTUS. I'd like to know of one person who says they received such a call. He is calling raising funds for the Republican Governors Association, of which he currently serves as chair.
Perry could very well appear to Tea Party voters and the Republican base with his signature "tough talking"and general wariness where DC is concerned, but – as RCP notes – Perry could see competition in a similar charismatic, "larger than life" political figure: his former supporter, Sarah Palin.
538's Nate Silver, for one, thinks Perry would at least have an advantage in the South: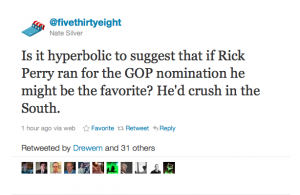 Now. Will New Jersey's Chris Christie also change his mind after taking a closer look at the playing field?
Have a tip we should know? tips@mediaite.com