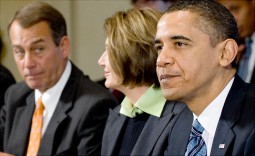 The Democrats' extremely short health care honeymoon appears to be over. Late last week, just days after the endlessly talked about bill was passed, just-released poll numbers that suggested the country had done and about-face on health care (and Obama) had the Democrats crowing. Suddenly the November elections did not look so glum. Well that was last week. This week, according to Gallup, voters are apparently back to preferring the GOP candidate.
Registered voters now say they prefer the Republican to the Democratic candidate in their district by 47% to 44% in the midterm congressional elections, the first time the GOP has led in 2010 election preferences since Gallup began weekly tracking of these in March.
According to Politico's Mike Allen "reporters are flummoxed — few expected this." The beltway media failing to take the temperature of the nation…shocking. Anyway, yes, it's a small margin, but here's the rub (or the gain, depending):
A Republican advantage among all registered voters in midterm elections has been rare in Gallup's 60-year history of tracking congressional voting preferences, happening only a few times each in the 1950, 1994, and 2002 election cycles — all years in which Republicans had strong Election Day showings.
Of course, this could just be the runoff effect of the saturating media coverage of the HCR debate which primarily focused on polemics. Says USA Today, which breaks down a variety of the results, says the Americans "seem disaffected about nearly everything political." No doubt. Good thing the baseball season is nearly upon us.
Related: Was HCR Actually That Unpopular, Or Did The Media Make It So?
Have a tip we should know? tips@mediaite.com