The American Dream: Joey Chestnut Sets New Hotdog Contest Record on Fourth of July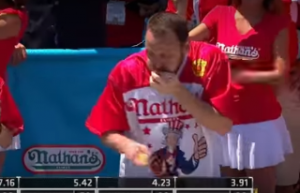 The Nathan's Hotdog Eating Contest is a big deal every year, but this year it is especially exciting because Joey Chestnut set a record for most hotdogs consumed! He ate 70 hotdogs. If that isn't the most American thing you've ever heard, get right out!
As people all over the world watched, Chestnut destroyed the man who broke his eight-year winning streak last year. He must have still been mad about that, because he ate 17 more than last year's champ. Here's how the AP put it, which is worth a read:
Joey "Jaws" Chestnut beat his own record in regaining the Mustard Yellow International Belt on Monday, downing a stomach-churning 70 hot dogs and buns to top Matt "The Megatoad" Stonie at the annual July Fourth eating contest.
Take that, Matt "The Megatoad" Stonie!
He explained that Stonie "woke up the sleeping giant" when he dethroned him last year, so to get the Mustard Yellow International Belt back had real meaning this time around.
Watch some coverage. Pay attention to the part where the announcers breathlessly say, "He will return to his rightful place atop the food chain. He is the Tyrant Lizard King."
Joey Chestnut wins the #NathansHotDogEatingContest . https://t.co/0srpqUlyXv

— Dave Walls (@DaveWallsWSET) July 4, 2016
"Last year was rough. This year was the best ever," he explained to the eager fans watching at Coney Island.
Obviously, the people tweeting #AmericaWasNeverGreat today haven't ever heard of Joey "Jaws" Chestnut, real American hero.
[image via screengrab]
For more from Lindsey, follow Twitter and Facebook.
Have a tip we should know? tips@mediaite.com