The Apprentice Staffers: Trump is 'Obsessed' with Menstruation and 'Funny Fat Guys'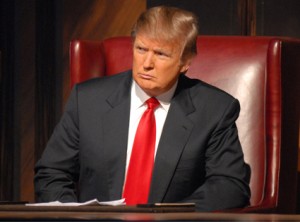 Donald Trump has had plenty of time by now to show off what he's like outside of The Apprentice, but producers from his old show were recently asked if 2016 Trump is the same mogul they knew before. According to them, Trump's behavior now is exactly the same as it's been for all those years.
If it wasn't bad enough that several of Trump's ex-proteges have spoken against him, Slate caught up with Bill Pruitt and other crew members who had contact with the Donald behind the scenes. While most spoke anonymously due to risk of violating nondisclosure agreements, Pruitt said he had a "patriotic duty" of sorts to go over Trump's "Machiavellian" traits and other quirks.
Beyond saying that Trump is a germaphobe, a manipulator and stingy for a philanthropist, staffers said Trump's penchant for talking about female bodily functions goes far further back than his Megyn Kelly "blood" comment.
"We shot in Trump Tower, the control room was on the seventh floor, and he walked in one day and was talking about a contestant, saying, 'Her breasts were so much bigger at the casting. Maybe she had her period then.' He knows he's mic'd and that 30 people are hearing this, but he didn't care."
Another producer said that Trump would try to keep "funny" fat men on the show as long as he could because it's "good for ratings," even if their work wasn't up to par. The producer went on to say that not only did it require the team to change the narrative's entire direction, but that Trump has been trying to do it again ever since Chris Christie endorsed him.
"There was a fat contestant who was a buffoon and a f*ckup, and he would f*ck up week after week, and the producers would figure that he'd screwed up so badly that Trump would have to fire him… Trump can never be seen to make a bad call on the show, so we had to re-engineer the footage to make a different contestant look bad."
In the end, Pruitt told Slate that he regrets that reality TV business people like him gave Trump his springboard into notoriety.
[Image via screengrab]
— —
>> Follow Ken Meyer (@KenMeyer91) on Twitter
Have a tip we should know? tips@mediaite.com